Posted on
Woman who housed escaped prisoners and had sex with one, jailed for one year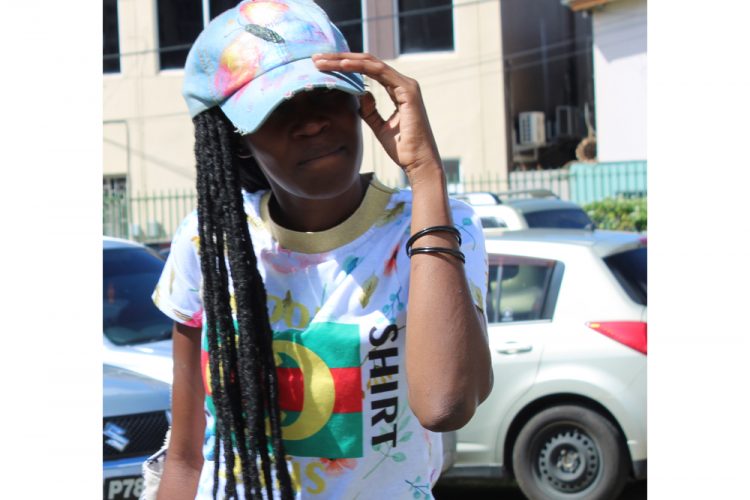 A 29-year-old woman, who admitted to having sex with escaped prisoner Veron Primus while he was on the run, has been sentenced to one year in prison for housing Primus and fellow escapee Ulrick 'Chucky' Hanson after they broke out of jail.
Shadene Farrel of Lowmans Leeward may be the first person in St Vincent and the Grenadines (SVG) to be charged with the offence of knowing and believing prisoners to be guilty of escaping lawful custody, did without lawful authority, or reasonable excuse, an act to impede their apprehension or prosecution.
She was picked up on Thursday, December 10, soon after the police found Hanson and Primus, who escaped from Her Majesty's Prisons in the wee hours of Wednesday morning, at her home.
The police had launched a manhunt following the escape, and acting on information received, members of several units went on duty at Lowmans Leeward. They met Hanson and Primus at the home, and both were recaptured. However, Hanson received a gunshot wound to his leg in the process.
Farrel was not met at her home, but later arrived on the scene. The police questioned her, and she said that she was living at the house.
She was also interviewed, and following a statement that she gave to the police, she led them to an abandoned concrete building in Lowmans Leeward, showing them a Digicel bag, containing a phone and SIM card.
She said that she purchased this phone for Primus.
The young woman told Senior Magistrate Rickie Burnett at the Kingstown Magistrate's Court on Friday, December 11, that she was a 29-year-old mother of two. She sells Jello shots for a living.
Her children, who will be six and nine years old this month, are not in the country, and she admitted to travelling to Antigua at times.
When asked why she committed the offence, she said that the prisoners turned up at her home at 5 am on Wednesday, and although she asked them if they had anywhere else to go, they told her that the sun was coming up soon.
She claimed to be frightened and that she only left on Thursday morning to purchase the phone. The defendant mentioned that her phone was not working, so she could not call the police.
She apparently knew Primus because her best friend's boyfriend is related to him.
"Any reason why they came to you as opposed to somebody else? Do you know why? Any reason?" the magistrate asked her.
It was then that she admitted that she would have video calls with Primus from his cell in prison.
The magistrate told her that the penalty of the offence she was charged with is a maximum of two years in prison.
"When you set about to do wrong, you have to contemplate the consequences," he told the defendant.
Farrel said that she tried to speak to a neighbour and give signals to persons.
Burnett asked if the statement she gave to the police could be read, mentioning that it would have been read had there been a trial.
The statement Farrel gave totalled five pages.
The young woman says that she knew Primus was a prisoner, and that she first started speaking to him on her best friend's phone, until he asked for her number.
At one point in time, they started to call one another on Whatsapp, she had told the police, "early morning at seven, two o'clock in the evening and in the night."
She mentioned that they would engage in phone sex and he would ask her about her day etc.
Farrel had seen Hanson, who she referred to as "Tattoo Man" on these calls as well.
She mentioned that there was a time that Primus called her and she did not speak to him because a friend was by her.
"Veron got upset and I had to turn off my phone; I turn on the phone the next day and he call me and was cursing me," she noted.
However, they soon made up and the friendship resumed.
The week before the escape, she said that Primus was making jokes, saying that he was outside of her window.
"Yesterday (Wednesday) morning some time about five am, I was home making Jello shots when I heard a knocking on my door. I opened the door and I see it was Veron," and "Tattoo Man", she recalled.
They weren't dressed in a prisoner's uniform, but in all black. She told the police that she told them they couldn't stay in her house, but Primus said the prison would discover that they were missing in about 30 minutes time. When she asked if they had another place to stay, they said they did, but that the sun was coming up.
Some while afterwards, in the kitchen, after she was apparently prevented from taking out the garbage, she began fixing tea for them.
"Veron telling me, he ain going do me nothing and I must calm down my nerve. I tell him he has to leave, Veron say he can't leave because is broad daylight and they will kill him," Farrel said.
Her best friend, who lives with her, was not in the house, Farrel posited.
During their conversations, Primus informed that a vehicle had dropped them in the area, and they walked to the house. They had climbed over the wall of the prison, near the headquarters of St Vincent Electricity Services Limited (VINLEC).
That night, she said that Primus sought her out for sexual intercourse, and although she was frightened, and told him she was not in the mood, "I still give him the sex." However, she added that he didn't force her.
The sex was unprotected and after this, condoms were found in her room, and Primus slapped her, she said, because he thought they belonged to her.
He seemed to be keeping an eye on her.
Farrel also told the police that the escapees had many knives, but never threatened her with them.
The only times she left were, firstly, to speak to her best friend, and on Thursday morning she also went into town to buy a phone Digicel phone in Tokyo at the request of Primus.
Because of this, Prosecutor Sergeant Renwick Cato questioned why she didn't go to the police when she went to town.
She replied that she was afraid Primus and Hanson would find out she went there, and that she would have to return to her home.
Something in the statement was mentioned once more, and it was clarified that when Primus' phone was taken away in prison, he had no SIM, so Farrel assisted him with the SIM release so that he could get the same number again.
"Miss Farrel you are not as innocent as you want to appear before me. You're not that innocent at all," the magistrate stated.
The prosecution asked that a strong message be sent that those kind of offences are not acceptable.
"The mind that you have madam, that's a mind that the court has to do something," about, Burnett said, "there's no if or but, you are going to prison. I'm just contemplating how long."
After a short break, he returned with the sentence. Although she was entitled to a one third discount for her guilty plea, and this is her first offence, the magistrate said that the aggravating features far outweigh the mitigating.
He sentenced her to one year in prison.
This is the second time that Primus, considered a very dangerous prisoner, has escaped prison, the first time being Tuesday October 1, 2019. He was sentenced to 16 months incarceration for this.
However, he is on remand in prison awaiting trial for the murder of real estate agent Sharleen Greaves, and was indicted in 2016 for the 2006 murder of Brooklyn teen Chanel Petro-Nixon.
While he was previously on numerous charges for allegedly abducting and sexually assaulting Vermont resident Mewanah Hadaway in April 15, 2016 the prosecution withdrew this in the face of no evidence from the victim.
Hanson is also considered very dangerous, charged with others for the murder of 50-year-old security guard and Victoria Village resident Rodney George, and the burglary of the building that he was guarding at the time, GEC Auto Supplies Ltd.
Further he must face other robbery, wounding and burglary charges.