Posted on
Fishermen robbed at sea by Spanish-speaking men with AK-47 rifles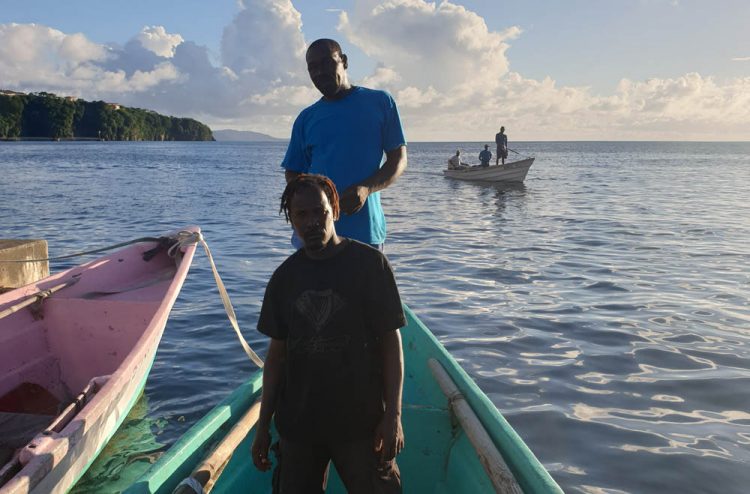 by Lyf Compton
Members of the local fishing community are running scared after two Vincentian fishermen were robbed at sea by 10 Spanish-speaking men with AK-47 rifles.
The incident took place in the waters off Mustique on Thursday, November 12 and involved Barrouallie fisher 38-year-old Canold Miller and Questelles resident Cliff Young.
On Friday, Miller told SEARCLIGHT that he and Young left the landing at the Kingstown Fish Market on Thursday, November 12 around 5 am and journeyed south east, about 46 miles off the mainland.
He said while fishing, they were accosted by 10 Spanish-speaking men carrying AK-47 assault rifles. The pirates approached the fishermen on board a blue pirogue, over 30 feet long with six powerful outboard engines.
An AK-47 is one of the most powerful guns in the world and can easily sink a boat like the one Miller was using, a 24-foot wooden pirogue called 'Elijah' with a 75 horsepower Yamaha engine.
"We just fishing and these guys just so devious they board us with weapons…they stop us, slow us down, circle we, then they get us at gunpoint then they say: 'life or money'…so we say we have no money, we just fisherman, fisherman we be," Miller said.
"It hard for fisherman go out dey and they not secure. This is our daily job, our daily bread and we can't do nothing about it but we not secure in the water," Miller told SEARCHLIGHT.
He said one of men who spoke English asked if they had rich relatives.
"They asked if I have family with money, so I said, 'I'm a fisherman I have no family with money'.  They wanted to take me back to Venezuela and my family have to pay the dues.
"I say 'I have no family to pay no money' so then they kept we from about after 2 pm, minutes to 3 pm, and let we go in the night. One man had jump over and had we gunpoint.
"I did done say this is the end of me, but I know I was not going down just like that," Miller said.
The men were robbed of their Global Positioning System (GPS), cellular phones, foodstuff, water and money.
Miller said when they were eventually allowed to leave, it took them a few hours to get back to shore as they were 14 miles away from their original position. He said they used a compass to find their way and went directly to the coast guard base at Calliaqua where they reported the incident.
He said persons sometimes look at fishermen as if they have a lot of money, but their job depends on them catching fish, and if they are afraid to venture to sea, then they will not be paid.
"If we fish every day and we catch no fish, then we can't buy the gas to go fishing the next day, then we can't feed the family," Miller presented, while adding that many fishermen are now saying they would not be venturing as far out as before, because of this threat.
"These men were in our waters. I find that is very hard for a fisherman to go out for a daily bread and Venezuelans just come in our water and do what they want to do and they could have killed us and I think something need to do about this thing," Miller said, while also noting that the Spanish boat was filled with what looked like several hundred kilos of cocaine.
"Is long time now this thing going on, but is not the first time I meet them, but they never like this before because they going their way and I going my way.
"It have plenty man passed them going their way before, but they don't normally study us.
"When you look at a boat with six engines, even if a poor man get one boat with an engine the police going to track you down, but look at a boat with six engine horse power… everything they take, so what I go home and meet my family with? Nothing."
Miller said being robbed is hard and to top it off they have to deal with the fact that the men could have ended their lives, sunk the boat and they would have gone down in history as missing fisherman.
"And as a drugs man and you doing them kind of work dey, you leave no trace behind because police would hot the water if they find we in the boat dead.
"This is not right because everybody looking for a dollar," said the fisherman of 15 years.
He noted that while the incident cannot stop him from going back to sea, he wants the fisheries department and the coast guard to work more closely with the fisherfolk.
"The coast guard patrol not wide enough. They patrol in the west and we fish in the east and them drugs man just running up doing what they want and it very scary to other fishermen," Miller said.
He said there are persons looking to invest in fishing vessels, but will now become even more hesitant as if you go to the bank to get a loan and you lose your boat at sea in an incident like this, you can end up on the street.
"Since the incident, no one come to talk to me so I would like the media to show people what going on. Fishermen saying they not going where we went, they staying close," Miller said.
On Sunday, Commissioner of Police (COP) Colin John said the incident was reported and he has written to the Ministry of Foreign Affairs on the matter while he has also alerted their regional counterparts.
He noted also that a similar incident happened in St Lucia's water a few weeks ago.
The kidnapping of fishermen by Venezuelan pirates is a major problem in Trinidad and Tobago (T&T) where fishermen are snatched from the water and taken to Venezuela, following which money is demanded for their release.
Pirates are known to ask for ransoms of up to US$200,000.