Posted on
Gonsalves sworn in as PM of SVG for historic 5th term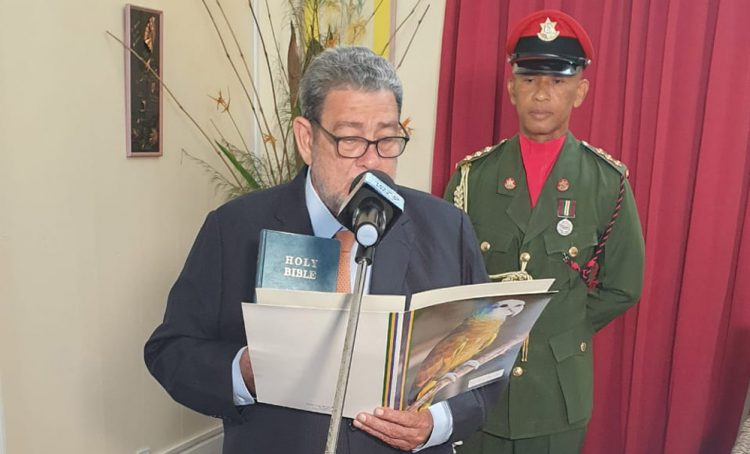 Political leader of the Unity Labour Party (ULP) Dr Ralph Gonsalves has been sworn in as Prime Minister of St Vincent and the Grenadines (SVG) for an unprecedented fifth term.
The swearing in ceremony took place at Government House on Saturday morning and also saw Montgomery Daniel sworn in as Deputy Prime Minister and Jaundy Martin as Attorney General (AG).
The ULP was re-elected to govern for another five years during the General Elections that were held last Thursday.
All persons sworn in took the Oath of Office during a ceremony which was witnessed by family members, high ranking members of the ULP and government officials.
Commissioner of Police Colin John, cultural ambassadors Rondy "Luta" McIntosh and Rodney Small; members of the diplomatic community including Consul General Fitz Huggins and SVG's Ambassador to Cuba, Ellsworth John were also present.
After the swearing in ceremony, the Prime Minister said that he and Daniel will not contest any other elections in SVG and stressed that they have a lot of work to do to rebuild the trust of between 3000 to 4000 of their supporters who did not vote for them this time around.
Last Thursday's "five-in-a-row" victory was bitter-sweet for the party as it secured 494 fewer votes overall than the New Democratic Party (NDP), thus losing the popular vote which it had held since 1998.
The preliminary results from the Electoral Office indicate that the ULP polled 32,353 of the 62,251 accepted votes cast, thereby securing 49.6 per cent of the popular vote. Had the ULP been able to secure the popular vote, this would have been the sixth time the party would have been doing so, the first being in the General Elections of June 15, 1998, when led by the late Vincent Beache, the ULP won 54.6 per cent of the vote, but only seven of the 15 available seats and thus failed to form Government.
Gonsalves said that had the NDP not campaigned strongly against the referendum of 2009 that would have changed the political system, they could have formed government, having won the popular vote.
"The opposition rejected it so they have no moral authority or political authority to address the question of a proportional representational system…," Gonsalves said.
He said there are several issues that must be addressed in the various communities of the country and that is a main focus of the party going into the fifth term.