Posted on
Please sing our anthem in Garifuna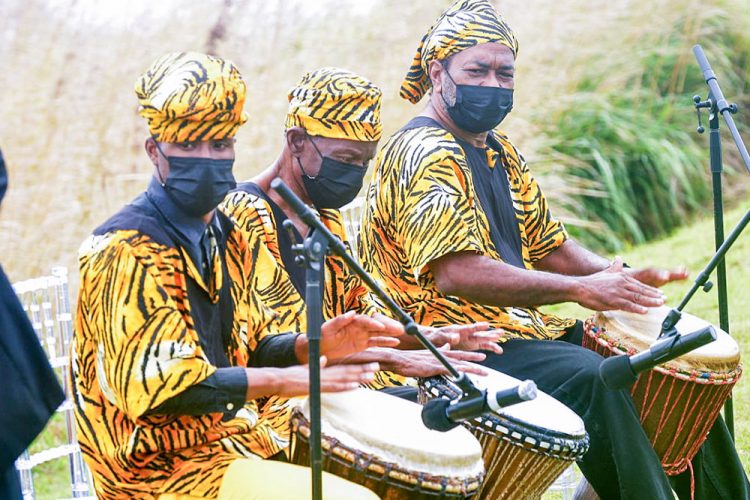 Last Sunday's Nah-shun-all Hero's Day Ceremony at Dorsetshire Hill was on TV, but ah was getting ready foh Church so ah listened in between dressing and breakfasting. Ah heard ah beautiful female voice singing de English version of de Nay-shun's Anthem. Ah recognized she was Andrea Gaymes. Immediately after Andrea was finished, ah heard de intro Bars of de Anthem playing again, and another beautiful voice singing de Anthem, but dis time in ah Far-reign language. Ah turned off de stove and paused to listen every note, every word, never mind ah didn't overs ah single word, but ah figure since is Garifuna Chief Chatoyer's Day, she had to be singing in Garifuna Language. De singer, I'm told by API was Ulrica Gaymes, smooth light skin (colour), she could pass foh Carib or Calinago. De Games family is ah house ah beautiful voices and good looks.
Singing dat Garifuna version of de Anthem was ah one-dah-full I-dare; Ulrica Gaymes rendered it wid feelings, she mek goose bumps raise all over me. Right dey and den it occurred to me dat we got we own Arawakan Garifuna Language and it is unique, it is not ah dialect, or ah Creole. It is De Garifuna language and was taken by our Ancestors (banished by de British) to Belize, Guatemala, Honduras and Nicaragua. In 2008, it was declared a Masterpiece of the Oral and Intangible Heritage of Humanity, along with Garifuna music and dance. Garifuna is ah language made up of many words borrowed from de languages of de several visitors to our shores- de Caribs, Africans, English, French and Spanish. We should consider we-self as Blessed and unique, and ah calling on Minister Curtis King, ah His-storian, to activate de program we had here in de schools ah few years ago, to promote Garifuna Culture, de Language, Music and Dance. Introduce ah TV/Radio Program to teach de Language so dat soon every Vincy would be able to sing de Nah-shun-all Anthem in Garifuna.
WE ARE IN ON DIS TO-GATHER
Ah calling pon de Go-venom-mint to relax, stop miss-behaving like ah Bully. Teachers and Mini Van Operators play ah very important role in dis country's development, please listen and follow de sound reasoning of our Teachers and Van Operators. Lie-Za was telling me dat over twenty thousand workers and student depend on de Vans foh transportation every day. From as early as 5:00 a.m. Vans on de road all day, yes we give dem ah hard time foh speeding, bad-driving, crazy overtaking, stopping suddenly, lef dat foh de Police to handle. We place lickle or no value to dat significant contribution dey mek to de Nay-shun's Economy.
It is non-cents and disrespectful to promise Van Drivers and Conductors if dey take de Vaccine, Go-venom-mint will approve increased subsistence foh dem. What about de safety of de passengers travelling in dem same Vans.
De Vaccine is here and quite frankly too much unadulterated crap from uninformed persons coming thru de Air-waves, creating doubts and fear in people's minds about de Vaccine. People should be encouraged to take de Jab, but respect ah person when s/he resents or object to taking de Vaccine. People have Rights and we must be careful and try to detect early signs of Dictatorship creeping thru de back door. Sooner dan later de merits and demerits of de vaccine will come to light. And wid dat is gone ah gone again.
One Love Bassy
Bassy Alexander is a land surveyor, folklorist and social commentator.