Posted on
Memory Lane here comes Nina!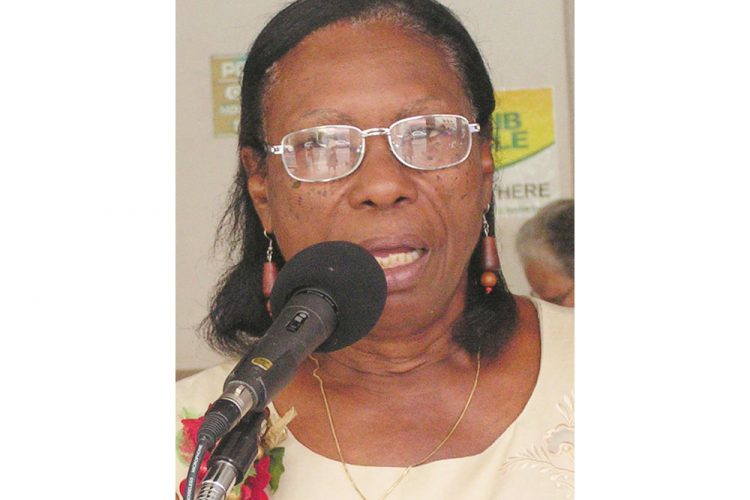 I am indeed saddened by de passing of my Dear Friend and everybody's Friend, Nina Maloney. Ah remember like if is today, de first timeah was going to use ah Telephone. Actually it was my first job at PWD in 1960, John Cato, ah co-worker, simply explained: "Just put de phone to your ears and wait on de Operator, tell her way yuh want." Same time ah very pleasant female voice on de other end ah de line said: "Operator, Number Please?" It was Nina Maloney, ah was stumped foh words because me ain't know no number, but she sensed ah was ah novice, so she repeated: "Where do you want to get, sir?" Ah think ah wanted someone at de Treasury, den she said: "And who are you sir, you sound like a new member of staff at de Office?" Ah told her I was, and in her special "charming" tone ah voice, she said: "And I am Miss Maloney, but you may call me Nina." Wow! Dis lickle youngster on his first day on de Jab… sorry, Job, making his first phone call, picked up ah Lime as easy as dat!
Yes, dat became ah life-long romance. Nina and I shared ah special kind ah Love Ah-fear foh close to 60 years. Was like every Board ah served on, Nina was dey ahead ah me. Ah think she used to nominate me foh membership. She always had two tickets "put aside" foh me foh every Fund Raiser. When it was not Church Luncheon, it was Bar-B-Q, or Girl Guides Tea Party; or Thompson Home Lunch, Salvation Army School Feeding Dinner, and de list goes on. She and dem tickets was ah pain in de neck and it made no sense trying to hide from Nina. Ah could still hear her familiar voice from across the street: "Yes, don't bother to hide from me, ah done see you long time." In addition, she knew my phone number off de hook. The message would be home waiting: "Your Girl Friend Nina Maloney said to tell yuh, dat she has two tickets foh de 'what-ever' and please don't buy any tickets from anyone else." Always mek yuh wife know yuh Deputy!
While comparing notes, Doctor Fraser remembers in 1979, he was at ah Party during de Volcanic Erupt-shun. Evening was Drifting and Dreaming away while everybody at de party grooving to de music on Nina's Late Night Radio Program "Back Down Memory Lane." Den BOOM! Suddenly dey was an explosion! Soufriere blew again! Someone at de Party called de Radio Station to confirm de happenings. Nina was on Air of course, she didn't wait, mischievously she sent out "Best Wishes to those happy folks wine-in and dine-in at ah Party while de La Soufriere is erupting". Back in dem days Every Monday Night, virtually everybody who was ah music lover, was locked-on to Radio 705 to journey wid Nina "Back Down Memory Lane"
Nina's Stellar performance at Radio 705 was her Marathon Church Service Programs. PR Campbell, who was made Minister of Ecclesiastes Affairs, saw a disparity in de allocation of broadcasting time of Church Services on Sunday. Only de major churches Cat-lick, Met-dis and Anglican were broadcasting. By den Nina was Manager of Radio 705, and between Nina and PR, ah Roster was made up whereby every church, and ah mean every church, in SVG, from Fancy to Union Island back up to Fitz Hughes, was given an opportunity to get at least one Sunday Morning broadcast Live on Radio 705. Nina, along wid a Technician and Browne, de Chauffeur, never missed ah Sunday. It was de first time Spiritual Baptists got to worship in de spirit live pon Radio, and was so dey uses to carry on. Nina would leave Kingstown at 4 a.m. to go to Fancy to broadcast ah Service. At de end of de Service ah member of de Church used to give ah Vote of Thanks dat went something like dis:
"And special men-shun must be made of Sister Nina Maloney, we thank her for her untiring service to her country and her God, May de Lord Bless Sister Maloney abundantly."
St Peter sent ah Chariot wid Trumpeters to take Nina "Thru Memory Lane", she actually went. And wid dat is gone ah gone again.
One Love Bassy.
Bassy Alexander is a land surveyor, folklorist and social commentator.