Posted on
Three blast centuries in first division cricket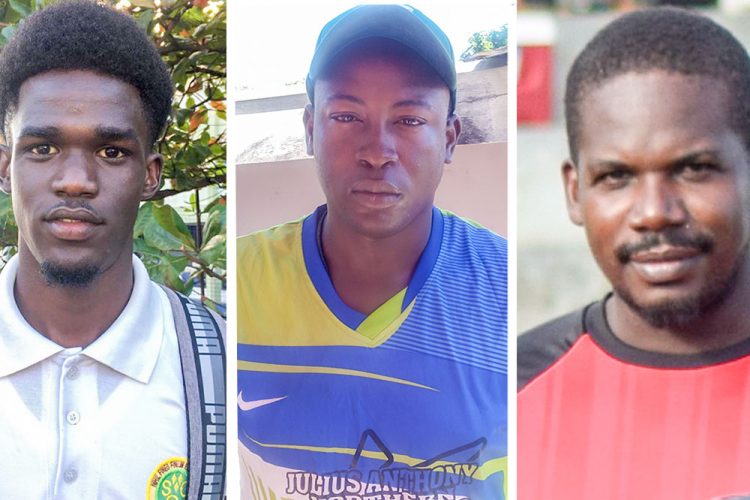 Three centuries were scored in last Sunday's NLA first division of the national cricket programme.
Reaching triple figures were Tilron Harry of French Verandah SVG Community College, Ronald Scott of Smashers and Jules Anthony North Leeward's Elron Lewis.
Harry's 109 came against the bowling of Combine Youths at Arnos Vale Two.
Striking 11 fours and 3 sixes, Harry led the college's response of 298 for 8, chasing 305 to win from 42 overs.
Supporting Harry in the failed run chase which was short by six runs, were Zivorn Walker, with 66, Reynalson Hillocks, 44, and 45 extras.
Kevin Samuel took 2 for 42 and Dexter Whinfield, 2 for 47.
Combined Youths had earlier posted 304 for 3 from their 42 overs, built around good scores from Kevin Samuel, 82, Nickie Antoine, 74, Jordan Samuel, 51, and Javed Cordice, 32. Their total was aided by 44 extras.
Bowling for the college students, Ronaldo Franklyn in his debut match, took 2 for 71.
At the adjoining Arnos Vale One, Scott smashed 7 fours and 8 sixes in his 103, to prop up Smashers' total of 213 versus Victors Two.
For Victors Two, Shamic Roberts grabbed 3 for 26, Kishore Shallow, 3 for 28 and Deswayne Williams, 2 for 43.
Smashers' bowlers, led by Darren Russell, who bagged 5 for 33, Kensworth Lewis, 3 for 18 and Javid Harry, 2 for 10, blasted out Victors Two for 66. Smashers won by 147 runs.
Joining Harry and Scott in the century making was Elron Lewis, who cracked 105 against Ruddy's Electrical Unique Warriors at the Buccament Bay Playing Field.
Lewis, who dedicated his ton to the late Jules Anthony, who died November 16, last year, lashed 19 fours and 5 sixes in his innings, while Vidol Edwards struck 86, Cklon Mc Kie, 46 and Akeem Mason, 30. Those contributions, along with 51 extras, saw North Leeward scoring 354 for 7 from their 50 overs.
Joseph Medford was Unique Warriors' most successful bowler, taking 2 for 52.
Unique Warriors' reply was paltry, dismissed for 88 in 22.3 overs, as Jide John took 5 for 22 and Mayor Edwards, 3 for 21, bowled North Leeward to a win by 266 runs.
And, at the Stubbs Playing Field, Police One beat Strike Eagles by 151 runs.
Parnell Browne scored 69, Antonell Browne, 36, and 53 extras, saw Police One to 252 all out.
Chris Humphrey took 4 for 59, Darren John, 3 for 58 and Akeen Jack, 2 for 50, were Strike Eagles' most successful bowlers.
Strike Eagles' response stopped at 101 all out. Chris Humphrey scored 38.
For Police One, Elmore Alexander had figures of 4 for 2, Vertil Davis, 3 for 16 and Parnell Browne, 3 for 27.
Matches this Sunday, pit Strike Eagles versus SVG Community College at Stubbs; Edward Conliffe / Coreas Distribution Belfongo against Unique Warriors at Buccament and at Arnos Vale Two, Radcliffe Too faces Victors Two.