Posted on
Kiddy Cricket kits presentation fulfilling Scotia Bank's outreach efforts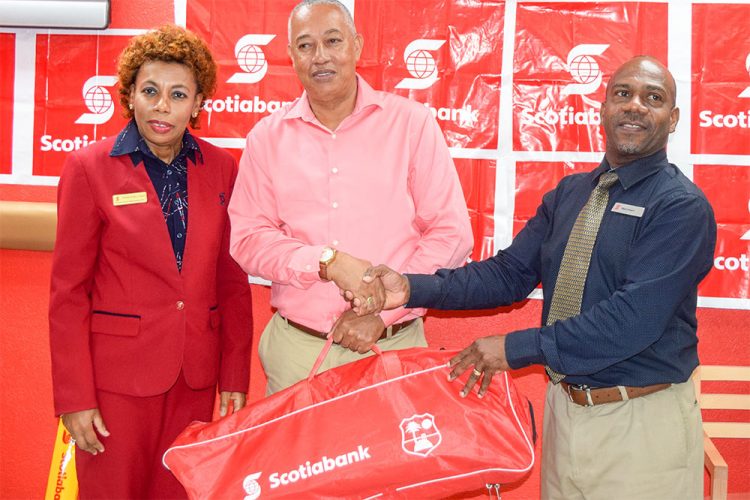 The presentation of Kiddy Cricket kits to six organisations last Tuesday at the Scotia Bank office in Kingstown, has been seen as part of the bank's fulfillment to reach out to the wider community.
Making that position known was country manager Pamela Herbert-Daniel.
"A few years ago, we retired our 'Bright Future' brand and have aligned all community support, under the name 'Young Ppeople in the Community'… We believe this will help Scotia Bank have a bigger impact and presence in the community in which we live and serve," Herbert – Daniel reasoned
The country manager reiterated that Scotia Bank's association with West Indies cricket, "reaffirms Scotia Bank's commitment to the cricketing discipline".
Receiving the kits were Sion Hill Sports Club, the Salvation Army School for Orphans, the Liberty Lodge Boys Training Centre, the Cyril Adams Methodist Day Care/ Pre- School, the School For Children with Special Needs and Chateau Stars.
The six are unattached to the Kiddy Cricket programme.
Apart from the six, a kit was presented to the 2018 winner of the Scotia Bank Kiddy Cricket festival – Chateaubelair Methodist School.
 Herbert-Daniel noted, "We envision that these kits will bring the fundamentals into the schools and organisations in a fun and engaging format when teaching discipline, while embracing teaching skills…".
Acknowledging the input of Scotia Bank, Samuel Holder, secretary of the SVG Cricket Association Inc. said, "We here in St Vincent and the Grenadines cannot thank you enough for your financial input which would have helped with the promotion and development of the sport of cricket here in St Vincent and the Grenadines".
Having started in the Caribbean in 1999, the Kiddy Cricket programme aims to help school children between the age of 16 and 11 years,develop a life-long passion for cricket.
Through the programme, children develop positive attitudes such as sportsmanship, self- confidence, self-discipline and interpersonal skills.