Posted on
Summer Adventure Squash Camp concludes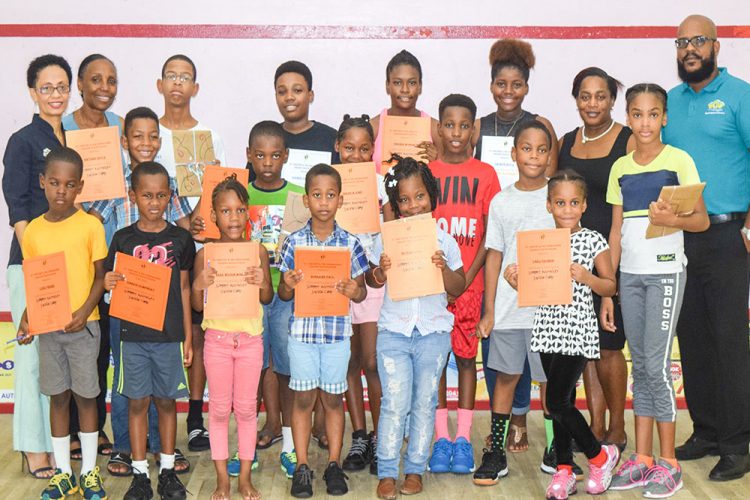 The St Vincent and the Grenadines Squash Association, last Friday closed off its Summer Adventure Squash Camp.
The primary aim of the two-week camp, which was held at the National Squash Centre at Paul's Avenue and sponsored by the National Lotteries Authority, was to seek out new talent, especially among the females.
This to some extent was achieved.
The 20 participants were taught the basics in the sports.
Responsible for imparting that new knowledge were Rashid Constance, Mikal Quashie, Amber Glasgow, Jada Ross and Bradley Glasgow, while Lauryn Doyle performed the duties of co-ordinator for the camp.
Additionally, participants were given insight into painting and handcraft, as well as educational lectures from professional persons.
Emerging from the camp were those who excelled in the various fields of adjudication.
Caeli George was voted the most promising female player and Roshawn Paul, the most promising male.
Amaris Murphy was voted the best beginner and Neveah George was the youngest participant.
In the area of colouring, Josiah Pierre was adjudged the most talented in that field.
Meanwhile, Tahaliya Cockburn and Nathan Doyle were the best at the handcraft.
During the two weeks, competitions were held among the beginners and those who would have had some prior knowledge of the sport.
Emerging as the females' beginner winner was Ciara George and the males' beginner was Dru Samuel.
The pair of Jaydon Williams and Nadira Morgan won the male and female division respectively, among those more advanced in the sport.
And, as part of the of the St Vincent and the Grenadines Squash Association's development programme, training for the young players will resume September 15, also at the National Squash Centre.