Posted on
X–Cel Tennis Academy hosts one-week tennis tourney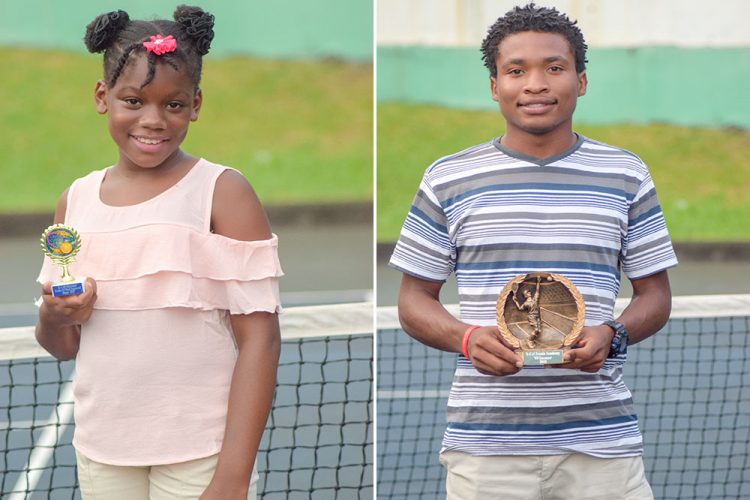 A week-long tennis tournament, hosted by the X- Cel Academy at its base at the National Lotteries Tennis Court at Richmond Hill, was aimed at keeping the sport alive at this time of year.
Head coach of the X- Cel Tennis Academy Kebakjah
King, said that the inactivity by the executive of the SVG Tennis Association, prompted his organisation to have the tournament.
"Nothing is happening at their end, so we decided to have a tournament of this nature to keep the sport alive," King said.
"It is pointless, the young players are paying to be coached and are not getting a chance to play in tournaments," King reasoned.
King was buoyant that the X- Cel Tennis Academy was able to fill the void, albeit on a restricted scale.
Fifty–six players therefore took up the offer to be part of the X- Cel tournament.
When the tournament concluded last Saturday, Afe Lucas was declared the females Under-14 champion, with Angeleah Providence, the runner-up.
Taking the males Under-14 title was Angello Morgan, while Alhil Cryil was the runner-up.
Meanwhile, Anastasia White took away the females open title, ahead of Myka Williams, with Josh Mounsey winning the male open over Daryl Franklyn.
The duo of Mounsey and Williams won the mixed doubles, with Alexi Humphrey and Aaron Weekes, having to settle for second.
And, declared as the tournament's most promising male player was Mc Carvy Cyril, and the most promising female player was Adonia Bramble.