Posted on
Kiddy Cricket Camp top performers recognized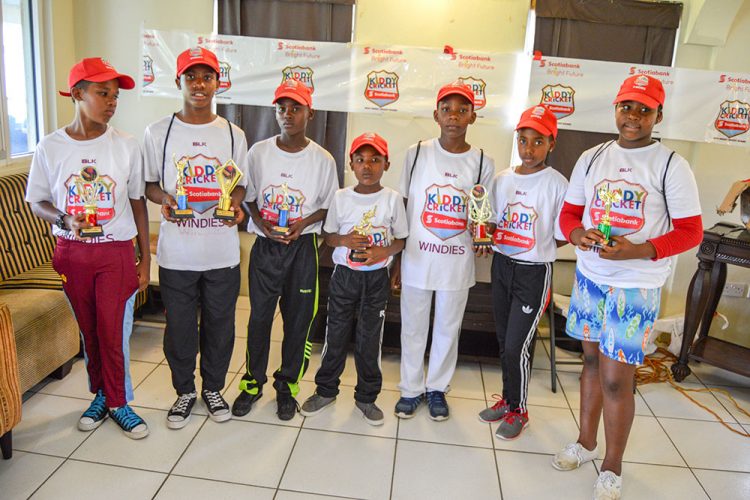 The stand-out players in the 2018 Scotia Bank Kiddy Cricket Camp, were last Friday rewarded at the closing ceremony, held at the President's Suite at the Arnos Vale Playing Field.
 Zach Thomas of the Overland Primary School was adjudged the best batter; Dexter Baynes of the Park Hill Government – best bowler, with Matthew Fredericks of the Bequia Anglican – the best wicketkeeper.
Fredericks also took the MVP of the camp award.
 Copping the joint most disciplined players award were Giada Small of the Owia Primary School and Israel Cumberbatch of the Kingstown Preparatory School, with Garek Cozier of the Paget Government School – the best fielder.
 
Denella Creese of the Chateaubelair was named the most outstanding female of the camp.
 Sixty players were part of the camp which ran for five days.
The five-day camp heard presentations on injury prevention, fitness and nutrition, personal hygiene, laws of the game, conflict resolution, along with child protection the use of Illegal substances and their effects.
Sunil Ambris, the first and only Vincentian, who has come through ranks of the Kiddy Cricket programme, to become an international cricketer, also gave a motivational talk to the 60 budding cricketers.
Five local coaches – Uzzah Pope, Bertram Stapleton, William Edwards, Gosnel Cupid and Cleton Burnett, took the students through the rudiments of cricket, over the five –day period.