Posted on
Country Roots firm in volleyball island tour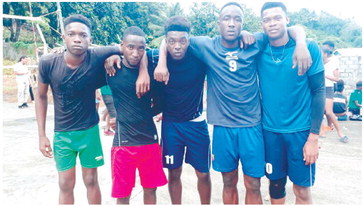 THE COUNTRY ROOTS clan remains firmly in charge of the St Vincent and the Grenadines Volleyball Association's island tour, as they lead in all three divisions after three legs of the tour.
Country Roots lead the senior male category on 19 points, ahead of Alliance, on 17, while in the senior female group, Country Roots sit on 21 points, six more than second place Gremlins A.
In the junior male division, Country Roots are locked on 17 points with Alliance.
Solidification of Country Roots' position came last Saturday at the Dickson Government School's court.
Organizers, though, had to reset the structure and have a knock-out format, because of inclement weather.
The results showed Country Roots' senior male team having a 15-14 win over Gremlins and revenged on Alliance with the same 15-14 score-line.
Country Roots' females beat Alliance 15-9 and Gremlins A, 15-13.
And, in the junior male category, Country Roots had a hiccup, beaten by Unique Touch 15-13, but had a 15-13 win over their counterparts from Alliance.
This meant that Alliance's junior males trumped this latest leg, to draw level with Country Roots, which had won the two previous legs.
The Girls' High School court hosted the first leg and the Gomea Methodist School compound, the second.
The fourth leg takes place during next month.
COUNTRY ROOTS senior male team
COUNTRY ROOTS senior female team