Posted on
Lahdial Horne called to the Bar, makes village of Owia proud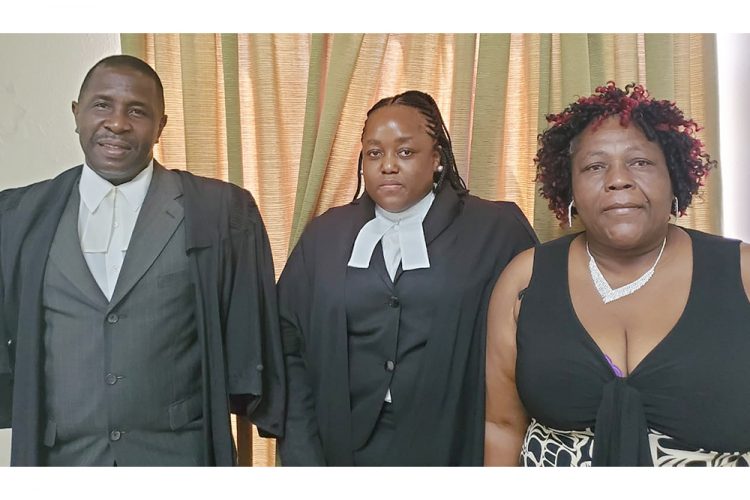 After being called to the Bar of St Vincent and the Grenadines (SVG) last week, Lahdail Horne of Owia dedicated her achievement to her mother and aunt.
Horne appeared virtually before Eastern Caribbean Supreme Court (ECSC) Justice Nicola Byer on Tuesday, February 16, at 9:30 am.
Her application was moved by the Attorney General Jaundy Martin and seconded by the Director of Public Prosecutions (DPP) Sejilla McDowall.
She was joined in making her oath by Coastguard Officer Junior Baptiste, who also hails from the North Windward community.
"Today the community of Owia is in the spotlight not because of Covid-19 or the La Soufriere volcano but because history has been made as two villagers are before this honourable court presented to be called as future attorneys-at-law," Horne stated.
Her academic journey started at the Owia Government School, continued at the Girls' High School (GHS), the St Vincent and the Grenadines Community College (SVGCC), and the University of West Indies (UWI) Cave Hill campus, before ending at the Hugh Wooding Law School of Trinidad and Tobago.
"I have experienced much to arrive at this new page of this new chapter in this my book of life: late study nights, extra hours of immense additional reading and research, sickness, financial woes, inner battle with self-doubt and fear of failure," the new lawyer revealed, and that she was able to persevere because of God.
She dedicated the day to her mother, Estlyn Thomas, present in person with her on the day, and aunt, Octavia Myrna Forde, present via Zoom.
Horne noted that they are "my role model, my solid rock, my inspiration, without them I would not have made it thus far."
"My mother, a single parent played the role of both a mother and a father to me. She is the strictest, most principled person I know," the lawyer disclosed.
Her goal was to make them proud, "because of the sacrifices they made for me, known and unknown, selflessly without complaining."
"To my aunt and my mother you never let me see you cry, you remain strong for me at the time when I thought my world was falling apart, your strength kept me going," she stated.
Her words of thanks also extended to other family members, including her uncles, cousins, other aunts and her grandmothers.
Horne's support system encompassed her colleagues, classmates, fellow villagers, and the Government, who all received honourable mentions.
"At times when I wanted to give up when I doubted myself my support system kept me going," she said.
Horne ended her speech by noting that she was cognizant of the noble profession which she was entering, "with uncompromising traditions and virtues, one in which hard work, commitment, diligence, integrity and humility go hand in hand."
"I will undertake to deliver my services to the standard of a reasonably competent attorney and to raise the bar higher by being an attorney with high ethical standards," she promised.