Posted on
Where is the proof to show my brother shot at police? –Latoya Browne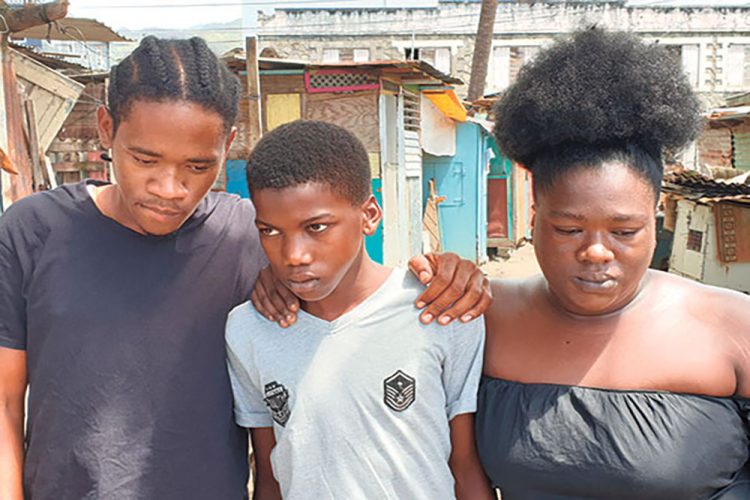 "Where is the proof to show my brother shoot at police? Where is the gun? Show me the gun. We wah see the gun."
That is the cry of Latoya Browne whose brother Alwyn "Bunnie" Browne was shot and killed by police in Ottley Hall on Tuesday morning.
According to a police report, officers were executing a warrant on Browne when he shot at them. They returned fire, hitting him, after which he was taken to the Milton Cato Memorial Hospital (MCMH) where he died.
On Wednesday, speaking to SEARCHLIGHT in Rose Place, Latoya, angry, sad and confused, said her brother was no saint but he was being harassed by police and civilians alike.
She believes that his death came by foul means at the hands of law enforcement officers who were for months now, promising to kill him.
"Me ain't feel pleased with way the Black Squad do my brother…and is a squad that always telling my brother what they going to do him when they meet him at the right destination," Latoya told SEARCHLIGHT.
She claims that her brother has been beaten many times by the police for no reason and that last year they shot him in the leg at Ottley Hall. She also claims that last month, he was struck in the face by a police officer, a blow that cracked one of his teeth.
Latoya said her brother would rather run from the police than shoot at them or fight with them.
She said her brother was being blamed for a lot of the crimes happening in the community where he lived.
"Everything happen in Ottley Hall they believe is my brother. My brother just 18 and crime happening in Ottley Hall before my brother even dream to born.
"I ain't saying my brother is a saint, me ain't defending my brother and say he don't do nothing, but I ain't satisfy with the way they take my brother and kill my brother," said Latoya.
"My brother did not have any gun. That's why we want to know where the gun he open fire with. How could he open fire when them meet him and he running for rescue from them? How could he open fire?
Where he run for rescue and go is where them kill him," she said.
Latoya said that she would have felt a little better if her brother was caught in the open, ran and was shot because that would make more sense to her and persons may have seen what happened.
A woman who lives at the house where Browne was shot said she was not willing to give her name, but did offer that the police ransacked the entire house looking for something and left it in a mess.
She said that Browne was at the house with another tenant charging his phone and the other tenant went outside, after which the police swarmed the property.
She, like Latoya, does not believe Browne had a weapon and thinks that he should not have died that day.
On Wednesday, Commissioner of Police (COP) Colin John said they recovered a firearm, ammunition and some spent shells from Browne at the scene.
The COP said that the weapon, ammunition and spent shells cannot at this time be displayed to the public as more than likely a coroner's inquest will be held in relation to the shooting.