Posted on
Franklyn wins again in the Guinness pool competition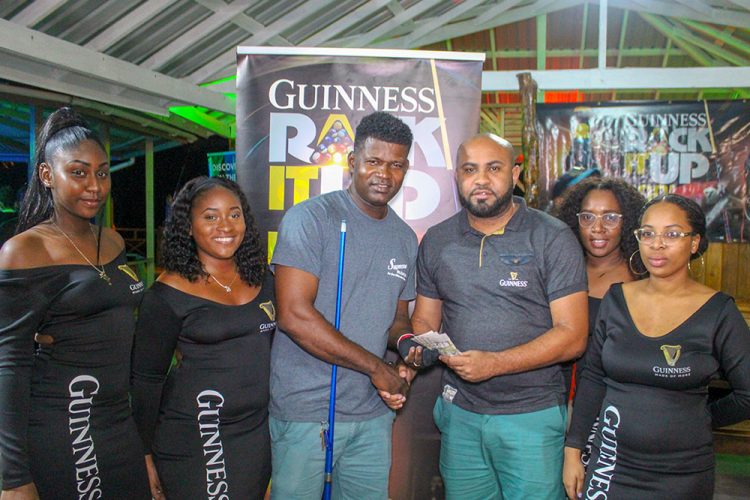 Tex Franklyn, who has proven himself in the annual Guinness pool competition over the years, has once again done himself proud.
Last weekend, Franklyn became the third person to qualify for the Saturday, April 6 finals scheduled for the Spotlight Stadium in Georgetown.
The third preliminary round of the competition was held at Captain Lano's Bar in Villa. It began on Saturday night and went into the wee hours of Sunday morning and at the end, it was Camillus Pitt and Franklyn who faced off, the two remaining players from a group of 74.
Franklyn beat Pitt in two straight games, taking the $600 cash prize and a place in the finals where he and eight other persons will vie for $6000.
"Every year I am always trying to take it. I came to play to win tonight because I know I can play well and I won so I am glad," Franklyn commented after the final game.
The fourth leg of the 2019 Guinness "Rack it up" Pool tournament takes place at the Drop Off Nightclub in San Souci this Friday February 22. The other legs will be held at Police Canteen in Kingstown on Friday March 1, Skyline Bar in Bequia on Saturday March 9, Cool Corner Bar in Cane End on Friday March 15 and Azard's Bar in Troumaca on Saturday March 23.
Persons register on game night by purchasing three Guinness beverages for $12. Each registered person will play in a best of three game and the winner moves on to the next round until there is only one person left.
Players are asked to be at the venue at 6 pm on competition night to register and registration closes at 7 pm.
The other persons into the finals so far are Roy Bullock of La Croix (won at the West Side Bar in Cemetery Hill) and Glenrick Edwards of Georgetown (won at Nan-I's Shop in Pembroke).