Posted on
Native parrots return to SVG after 40 years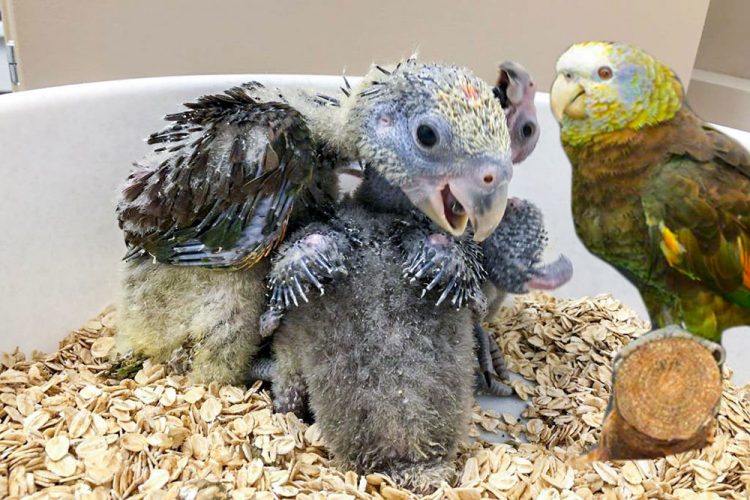 For the first time in 40 years, a set of Amazona guildingii parrots will be returned to its native country.
Two male Amazona parrots that were born in Germany from parents that were delivered from St Vincent under an agreement between the government of St Vincent and the Grenadines (SVG) and The Association for the Conservation of Threatened Parrots (ACTP) will be flown home at the end of March.
Senior Forestry Supervisor, Cornelius Richards said that the seven-year relationship between the government of SVG and the ACTP has evolved to the stage where the reciprocal transfer of birds can commence from Germany to St Vincent.
The Amazona guildingii is endemic to St Vincent and the Grenadines and is the flagship species of the country, having been declared as the National Bird in 1979.
According to a population census conducted in 2010, the current wild population is estimated to be around 850 to 900 birds. Despite an increase in the number of birds, from approximately 400 in the early 1980s, the current population still remains a long way from 3000-plus birds that inhabited the forest during the 1960s and 1970s.
In an effort to conserve the endangered birds, the Government signed an agreement for technical cooperation with the ACTP on October 7, 2011, and on December 16, 2011 ACTP received 15 parrots from the Government.
The birds were transported to Berlin, Germany, which marked the first phase of the movement of birds under the Breeding Loan Agreement (BLA). It was also agreed that a second phase will allow for the reciprocal transfer of a number of birds from ACTP to St Vincent.
Richards said the returning birds will serve to enrich the local gene pool thus ensuring viability of the local stock on the island. He said that the birds that would be arriving will eventually be integrated into the local stock, forming two viable pairs.
"More birds are to follow as the breeding in both countries advance, further enriching the local breeding program," Richards said.