Posted on
First leg of the 2019 Guinness Pool Tournament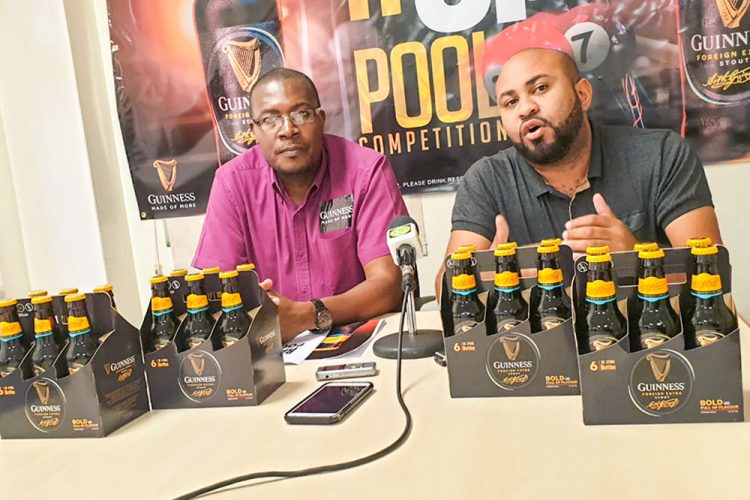 Tonight, Friday February 1, pool sharks from throughout the length and breadth of St Vincent and the Grenadines (SVG) will descend on West Side Bar at Cemetery Hill for the first leg of the 2019 Guinness Pool Tournament.
"Rack it up" is what the tournament is called this year, and tonight, someone will walk away with $600 during the first of eight preliminary rounds.
Speaking at the launch of the tournament on Wednesday at the St. Vincent Brewery Limited at Campden Park, Marketing Co-ordinator Kelvin Franklyn said Guinness is the premier stout in SVG and every year, the Brewery hosts the pool tournament under this brand to help ensure consumers enjoy the brand even more.
He said that during the eight preliminary rounds of the tournament, which will be held at different locations, several promotions will be held that will reward persons.
"We will have a lot of giveaways and a lot of promotions from the Guinness promotional ambassadors, so these games again this year are going to be very exciting and made of more," said Franklyn.
The other venues for the preliminary rounds are Nan-I Billingy's Bar in Pembroke on Friday, February 8; Captain Lano's Bar in Villa, on Saturday, February 16; Drop Off Nightclub in San Souci on Friday, February 22; Police Canteen in Kingstown on Friday, March 1; Skyline Bar in Bequia on Saturday, March 9; Cool Corner Bar in Cane End on Friday, March 15; and Azard's Bar in Troumaca on Saturday, March 23.
The finals will be held at the Spotlight Stadium in Georgetown on Saturday, April 6. At this date, the winners from the preliminary rounds will take on each other.
Explaining how the tournament works, Trade Marketing Coordinator Seon Ballah said that persons must register by purchasing three Guinness beverages for $12.
Each registered person will play in a best of three game and the winner moves on to the next round until there is only one person left.
"We are asking players to come out at 6 pm on competition night to register and registration closes at 7 pm," Ballah said.
Brian John won the competition in 2018. The Hopewell resident beat fellow Hopewell resident Berger Cupid during the finals of the competition which was held on Saturday, April 7 at the Spotlight Stadium in Georgetown.
The competition is five years old.
Ballah also noted that throughout the life of the promotion, consumers can purchase a six pack of Guinness at a reduced price at certain locations and write their name, address and contact number on the receipt and drop it in a box provided. The names will be placed in a raffle and that winner will take home a Guinness branded refrigerator filled with Guinness.
The locations that have the raffle boxes are all Massy Stores locations, Randy's Supermarket, Kingstown and Calliaqua and Diamond Grocery in Diamonds.