Posted on
Newly enrolled Girl Guides urged to take guiding seriously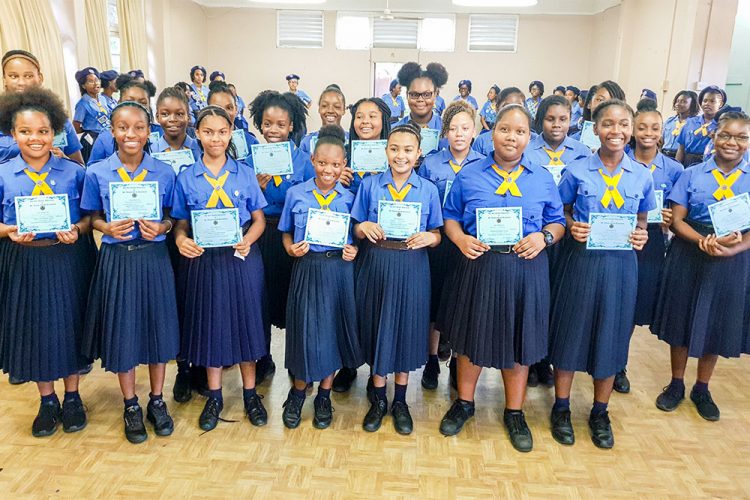 Twenty-one girls were last Friday enrolled into the No.1 Kingstown Girl Guide Company and the Girl Guide Association of St Vincent and the Grenadines.
And, the girls have been encouraged to take their guiding promise seriously while parents have been asked to encourage their daughters to make positive strides.
The words of encouragement and advice came from Guider Tamira Browne who spoke during the enrolment ceremony which was held at the Coutts Hall of the Girls' High School (GHS) at Richmond Hill.
"We encourage the girls to do their best and this afternoon they are going to make a promise in which they promise to do their best in every aspect of their lives," Browne said, before the girls took the oath which read, "I promise that I will do my best, to do my duty to God, to serve the Queen and my country, to help other people and to keep the Girl Guide Law."
Browne noted also that the Girl Guide Association is encouraging parents to help the Girl Guides to keep this promise.
"To be enrolled means that you are officially becoming a member of a particular Girl Guide company and the largest organisation for girls and young women," Browne said.
She also noted that there are Guides in 150 countries with over 10 million members and the Association is excited to add new Guides to be a part of "this phenomenal organisation."
The enrolment ceremony also saw three new guides recognized for gaining the highest scores on their pre-promise test. Recognized were Adia Daniel, Azaria Commissiong and Jonique Haynes.
The event was two-fold, as it was also used to host the Chief Commissioner's Exhibition and Awards.
Twelve Girl Guides are vying for the Chief Commissioner's Award which is the most prestigious and internationally recognised award in Guiding. Last Friday, 12 guides, during an exhibition, presented the projects and achievements completed during their four-year guiding journey.
Browne, who is also the Under-35 Representative of the Girl Guide Association of SVG Caribbean Link of Guiding, Western Hemisphere Region and World Association of Girl Guides and Girl Scouts noted that during the first term of guiding, the girls have made excellent strides.
She noted that they held their first ever road relay which saw the girls run from Arnos Vale to the GHS.