Posted on
SSBQ dominated by Mountain View Adventist Academy in 2018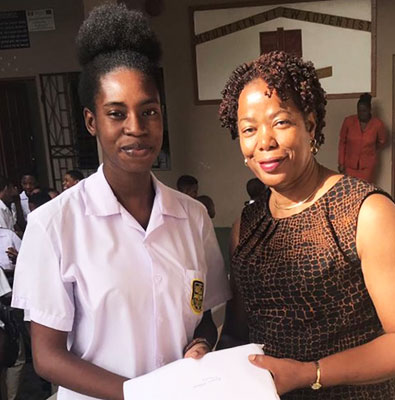 REYANN WILLIAMS of the Mountain View Adventist Academy (MVAA) received the prize for winning the Secondary School Bible Quiz (SSBQ) December Quiz at her school's assembly on Monday, January 13 from Janelle Jack. Reyann explained that she was encouraged to participate when another student of her school won earlier this year.
Her prize valued at about $600 in cash and kind was co-sponsored by Acute Cosmetic, Jujube and the Quiz organizers.
Reyann is the fourth student of the MVAA to win during 2018 (May, September, November and December).
The only two schools to achieve that feat in the past were the St Vincent Grammar School in 2008 and the Girls' High School In 2013.
The Quiz challenges students to read a passage of scripture and answer three questions from it each month. Information can be obtained at www.ssbq.org, on the Secondary School Bible Quiz page on Facebook, on WEFM's Scriptural Search program and in the Searchlight.