Posted on
LIAT stakeholders meet to discuss options for restructuring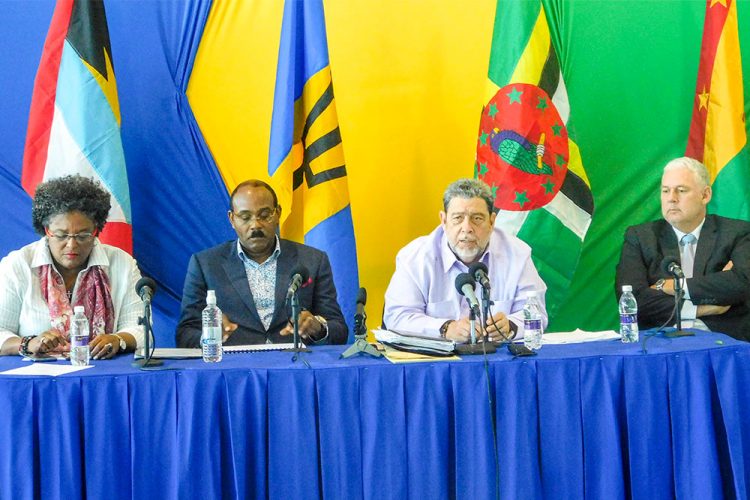 A LIAT government shareholders and Union stakeholders meeting was held here yesterday, to discuss possible restructuring initiatives to help make the airline more sustainable.
The meeting took place at the Argyle International Airport and attracted the prime ministers of the major shareholding countries: Mia Mottley of Barbados, Gaston Browne of Antigua and Barbuda, Allen Chastanet of St Lucia and host prime minister Dr Ralph Gonsalves.
Also present was Keith Mitchell, prime minister of Grenada.
During a media briefing which followed the day's activities, Prime Minister Dr Ralph Gonsalves reported that the meeting was a good one.
Gonsalves, who is also the chairman of the shareholders, said LIAT has had and continues to have its fair share of challenges.
And it was for that reason that shareholder governments decided to establish a technical committee, which presented a report regarding Aviation in the Eastern Caribbean sub-region with an emphasis on LIAT.
"They have made certain recommendations as to possible options and at the last meeting of the shareholders, a few months ago, the principal shareholders accepted the recommendation of one of the options as possibly the most viable of them…" he said.
"That is to say an option other than an option for a private sector takeover which was not realistic in the circumstances and the second option, closing the airline and start a new one. It was felt that it had some challenges, particularly in a transitional period, possible and doable but difficult.
But we have done difficult things before and there were some other options which would open the way for private sector involvement but with other shareholder governments coming to have possible commitment."
Gonsalves said that St Lucia and Grenada are willing to commit to the restructuring, providing that it is carried out in a particular manner that will garner the support of their respective parliaments and country.
The shareholder chairman said that LIAT has made an "immense contribution" to the region, despite its weaknesses and limitations.
Furthermore, he said that if a significant change is to be made, then there must be cooperation from all involved, including stakeholders, unions and workers.
"LIAT has made an immense contribution to this region and continues to make an immense contribution but there are weaknesses and limitations despite its strengths and possibilities and I fear that if we don't seek to enhance those strengths and possibilities and to simply get the weaknesses and limitations out of the way, we are not likely to have something which is sustainable and this is not just fancy words, this is a reality check," Gonsalves said.
He said that there are other steps to be taken in the restructuring process, which includes consultancy on matters within the report, so as to generate timelines and give detailed information.
But the chairman also said that enough knowledge exists to take immediate steps before the consultancy phase, such as having a conversation with unions, workers and management.
Attendees at yesterday's meeting included the president and vice president of the Caribbean Development Bank, William Warren Smith and Monica La Bennett; the director general of the OECS, Didacus Jules; chairman of the LIAT board of directors, Jean Holder; LIAT chief executive officer, Julie Reifer-Jones; members of the LIAT team, ministerial representatives and representation from a Union in St Lucia.