Posted on
SVGS hopes to reclaim top spot from GHS – deputy headmaster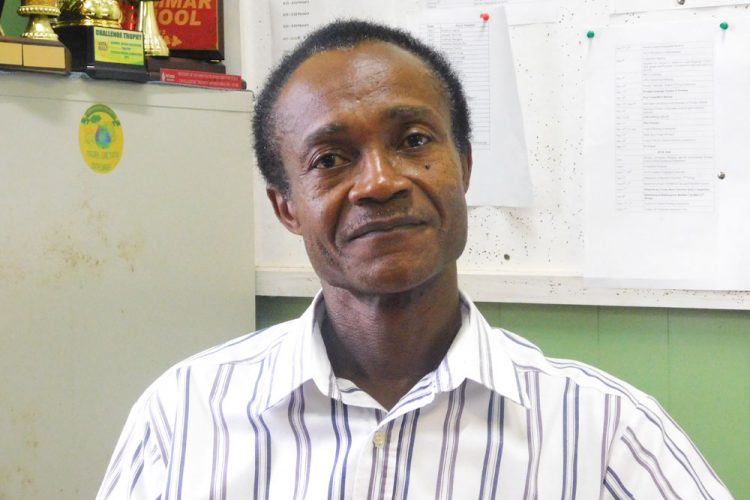 It has been over two decades since the St Vincent Grammar School (SVGS) has been at the top of the leaderboard for the Caribbean Examinations Council (CXC) Caribbean Secondary Education Certificate (CSEC).
And Alfred John, the deputy headmaster of the all boys institution said that they hope to reclaim the top spot in the near future from sister school, the Girls' High School (GHS).
The SVGS ranked third among the secondary schools in St Vincent and the Grenadines in terms of the 2018 CSEC results, with 88.69 % passes, behind the GHS (97.42%) and another all girl school, the St Joseph's Convent Kingstown (90.82%).
"I am satisfied that we have been reaping success. Yet, I would not be complacent. I know that the work is a continuous one and we will continue to make efforts to improve because there is room for improvement," he said.
"The Girls' High School; they seem to be dominant at the top for years. It is true it is an all girls school and there appears to be a disparity that is continuous between the performance of girls and boys. I think that we can close the gap. We can close the gap and we are going to make an effort to do so."
The Girls' High School had an overall percentage pass of 97.42 per cent this year.
John told SEARCHLIGHT that the public has expectations of the all-boy institution as it relates to academic performance because they receive the boys with the most outstanding performance from the Caribbean Primary Exit Assessment (CPEA).
"I personally think that the performance of the students in all of the areas except one was quite remarkable because we are having in many cases, pass rates in excess of 90 per cent in many subjects," he said.
John said that nine subject areas recorded a 100 per cent pass rate. These subject areas are Industrial Technology Building, Information Technology, Office Administration, Physical Education, Principles of Business, Social Studies, Theatre Arts and Human and Social Biology.
He also noted that seven subject areas recorded pass rates exceeding 90 per cent. These are Principles of Accounts, Physics, Geography, English Language, English Literature, Economics and Chemistry.
The deputy headmaster highlighted that there were five particular subject areas where a decrease in the pass rate was observed.
But he said that despite the decrease, they still recorded relatively good pass rates.
"Over the years, we are accustomed to getting 100 per cent passes in Integrated Science but this year it fell extremely low. We plan to query it," John said.
John, who has been deputy headmaster for the last four years said parental support, coupled with the dedication of teachers, helps to cultivate good student performance in major examinations.
He commended the teachers at the school for the job that they do in helping the students to excel. And he also commended parents who provide constant and ongoing support to their children.
"I must admit that especially for boys, it's been a struggle to keep them focused with so many distractions."