Posted on
SVG earns lone win at U-15 girls CONCACAF Championships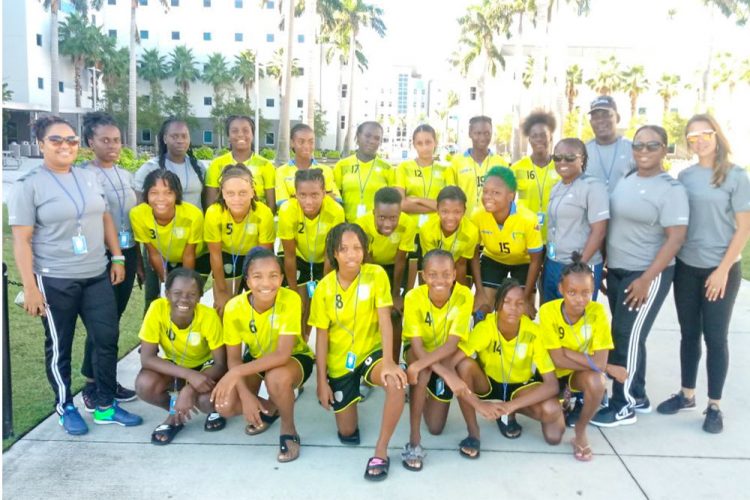 St Vincent and the Grenadines mustered a single victory in the 2018 CONCACAF girls' Under-15 football championships, which concluded last Monday at the IMG Academy in Bradenton, Florida, USA.
A 2-0 win over the United States Virgin Islands on Friday, in the play-offs with the two bottom teams in division two of the championships, ended the Vincentians' sojourn on a high note.
Netting the two first half goals were Sonja Mc Kie and Denel Creese. St Vincent and the Grenadines was outclassed in their three previous outings.
A 3-1 defeat by Anguilla began St Vincent and the Grenadines' campaign in Group G of the championships. Sonja Mc Kie scored the Vincentians' lone item. That defeat was followed up by a 5-0 drubbing from Grenada and a 4-0 margin handed down by Dominica.
When St Vincent and the Grenadines debuted in the championships in 2016, their fate was similar, as the team was beaten by Nicaragua 1-0, and 5-1 by both St Lucia and Puerto Rico. Their lone triumph then, was a 5-3 win over Grenada.
Apart from Mc Kie and Creese, the St Vincent and the Grenadines outfit which returned home last Sunday from the USA, included Arenna Grant, Shaielle Williams, Areka Hooper, Cavorn Delpesche, Zerese Williams, Kizzy-Ann Providence, Kacy-Ann Providence, Kendra Isles, Kanyan Douglas, Galexea Awad, Kendra Findlay, Jomeilia Alexander, Tishana James, Denel Creese, Rhoven Ashton, Clenetta Brudy and Deonce Coombs. The management team was composed of head coach – Andrew Bramble, assistant coaches – Amalis Marshall and Shelly Browne, team doctor – Alisha Bonadie, physiotherapist – Shevon Smith, psychologist – Anna French, and manager – Danielle Jackson. And, Wayne Grant, an executive member of the St Vincent and the Grenadines Football Federation, also made the trip.