Posted on
Ministry of Agriculture and Taiwan Technical Mission hold Workshops on Soil Analysis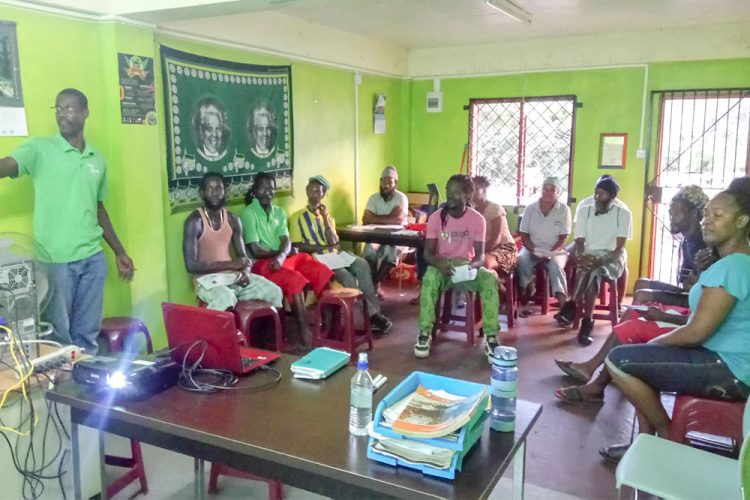 In order to help Vincentian farmers access information about soil analysis in SVG, the Ministry of Agriculture and the Taiwan Technical Mission will hold another workshop for interested Vincentian farmers, at the Orange Hill Farm on August 16.
Chao-Chiung Liao, Chief of the Taiwan Technical Mission, said that the Mission, together with the Ministry of Agriculture, established the Soil Laboratory to provide soil analysis for Vincentian farmers to draw the soil map of SVG. Farmers will then receive a report on the soil analysis data as well as advice on nutrition and farming.
Liao indicated that the Soil Laboratory is a part of the "Project of Strengthening Farmers' Organizations and Improving Fruit and Vegetable Production Technology in St. Vincent and the Grenadines." The project was implemented by the Ministry of Agriculture and the Taiwan Technical Mission since 2015.
The Chief of the Taiwan Technical Mission emphasized that, with the soil analysis, Vincentian farmers would be able to obtain more knowledge about their soils and would have better ways to plant different fruit and vegetables, accordingly.
Ming-Zing Lee, a specialist of the Mission, added that the workshops aim to assist the farmers to understand the meaning of soil analysis and how to use them to enhance production and fertilize efficiently.
Lee said that the Ministry and the Mission have held six workshops in 2018, and more than 150 local farmers from different cooperatives, such as Rafco, New prospect, Sowapco, Mt. Pleasant, Rasfaco, Gremco, South River and Pingco have attended.
Chun-Chun Huang, a specialist of the Taiwan Mission, said that Basil Nash, an instructor of the Plant Protection and Quarantine, shared his expertise with farmers. Nash encouraged farmers and growers to sample their soil to find out the kinds and amount of pre-plant fertilizer nutrient needed for optimum production.
Huang added that farmers are welcome to contact the Soil Laboratory, located in the Plant Protection and Quarantine at Campden Park at Tel no. 457-1283), to request soil analysis service. And for those who wish to understand the soil analysis, they are invited to attend the upcoming workshop. Interested farmers may contact Mr Lee at 531-0367 for information.