Posted on
FLOW supports Luke's Kids Club summer programme 2018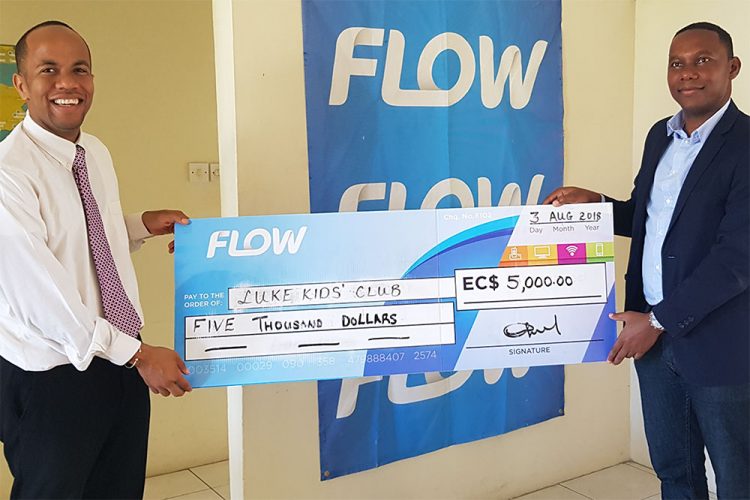 The Luke's Kids Club promises an exciting summer programme for 2018.
At a media launch held Friday, August 3,, founder of the Luke's Kids Club and Minister of Health, Wellness & Environment, Luke Browne stated that the programme which has been in existence for about seven years is guided under dual themes this year; "The Legacy of Nelson Mandela" and "Climate Change Matters to Me." 
Explaining further, Browne said the summer programme, which caters to children between the ages of 4 – 11 years for the junior clubs, and 12-17 for the senior clubs, allows kids to better develop their social skills and confidence, and also helps them to be more historically aware and knowledgeable in a host of subject areas.
He elaborated that the summer programme will comprise a series of activities to better engage the participants. These activities will include: field trips and educational tours to various parts of St. Vincent and the Grenadines; art and craft; Performing Arts; Personal Development Sessions; Lessons about Nelson Mandela, Climate Change and various related subjects; Movie and Documentary Viewings; a National Service Camp (popularly called "Boot Camp"); hikes to La Soufrière and the Vermont Nature Trails; physical activity and sports training periods with coaching experts; trips to the Grenadines on Catamarans, and a four-day camp in Carriacou.
Additionally, the programme will feature a component focussing on healthy living, with emphasis on physical activity and diet.
Noting that the Luke's Kids Club continues to increase its capacity every year, Browne stressed that there is a big vision for the club, as the main objective is to help mold exceptional citizens for the future of SVG.
Meantime, in helping to assist in making this year's programme a reality, FLOW St. Vincent and the Grenadines extended financial support towards the 2018 programme. FLOW's Country Manager Wayne Hull, congratulated the Luke's Kids Club on successfully building on the initiative year after year to transform the lives of many children since the programme's inception.
Expressing his satisfaction with this year's theme, he noted that it is fitting that efforts are invested towards educating the nation's youth about the legacy of Nelson Mandela and further emphasized that it is critical that they embrace and understand the impact of climate change on St Vincent and the Grenadines.
He stressed that community building is a key initiative at FLOW SVG, and noted that their efforts continue to transform and uplift the lives of many across SVG. He said that he is confident that the Luke's Kids Club will assist in the mission to do so.
Hull announced further that the company's support this year is more than just financial support. He noted that participants and facilitators will also be able to enjoy a complimentary broadband internet service, cable tv service and a fixed line service, as well as scores of giveaways .
Desiree Richards, CEO of Metrocint General Insurance Company also sang high praise for the Luke's Kids Club summer programme. Noting that Metrocint has extended its support since its inception, Richards further congratulated the team behind the Luke's Kids Club for their efforts over the years.
The summer programme is expected to climax on Monday, August 27.