Posted on
Senior public servants chided for poor turn out at workshop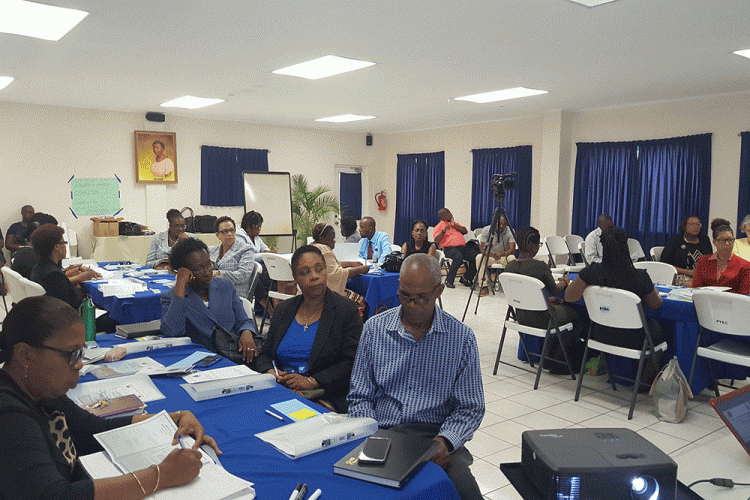 Director General of Finance and Planning, Edmond Jackson has registered his disappointment at the low turnout of senior public servants at a recent training workshop.
Jackson made his comments at the opening ceremony of a Public Policy Analysis and Management Training Programme held for permanent secretaries and heads of departments by the Caribbean Development Bank (CDB) at Frenches House on June 11.
"One of the challenges that I have noticed in the public service generally is that we are sometimes too busy as heads of departments and permanent secretaries to invest in activities that can lead to transformation," Jackson said.
He added that public officers must always make time for transformative activities because investing in these activities is what will shift their organizations, the public service and the country.
The Director General of Finance and Planning pointed out that the government invests heavily in the enhancement of human capital but "training appears to be an activity in and for itself, it is not an activity that is seen as to allow us to make some changes."
He added that many officers do not usually apply what they learn after these training programmes.
"There is always a gap between knowing and doing, knowledge and performance," and this initiative by the CDB and the Government of SVG is a direct response to filling that gap.
The program is part of the wider transformation agenda driven by the CDB, to catalyse the change needed in the region to achieve the sustainable development goals by 2030.
In outlining the objectives of the workshop, Jackson said it is designed to meet the needs of the public sector and the trainees, to enhance effectiveness, to deliver better results for the organizations and the country, change organizational behaviour, to be transformative and sustainable. He implored the participants to participate actively and to take what they learn to their organizations and departments to make a difference in St Vincent and the Grenadines.
Meantime, Coordinator, Regional Cooperation and Integration, CDB, Andrea Power said the CDB remains deeply committed to delivering sustainable development outcomes for the people of St Vincent and the Grenadines. She noted that the decision to develop and offer this training in Public Policy Analysis and Management Training Programme to SVG and CDB's borrowing member countries is rooted in a deep appreciation of the very challenging development context of our region.
"In this region we remain constrained by low economic growth and high debt exasperated by eternal and environmental shocks. It is still costly to do business across the region and this in turn affects productivity and competitiveness."
Power said reforming age old administrative practices and improving human capital in the public service is not a simple and straightforward task and it requires a commitment to change a commitment to manage the change and it also requires financial resources.
She pointed out that investing in Public Officers in this training exercise will help them to achieve a better alignment of projects with the national development plan and help to improve implementation of infrastructure projects.
The Permanent Secretaries and Heads of Departments are the first set of public officers to be engaged in the Public Policy Analysis and Management Training Programme.
Over the months of June and July, other levels and categories of Public Officers will also be trained in these areas.