Posted on
A soldier's story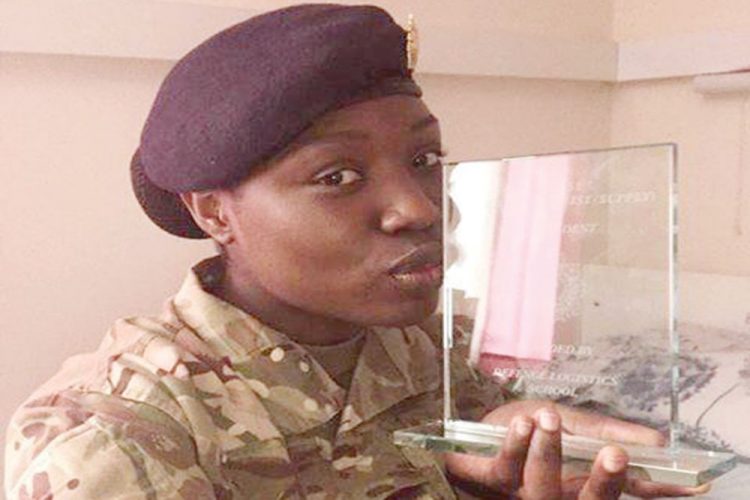 My name is Natalie Richards. I am 28 years old and from Richland Park, St Vincent and the Grenadines. I've always wanted to follow in the footsteps of my brothers Leeron and Curtis, as a soldier in the British Army. They joined the Army in 2001 and 2003 and achieved the rank of Corporal before they were medically discharged, due to injuries they sustained while serving with the forces.
In June 2016, I applied from SVG to join the Army as a Commonwealth citizen and I wasted no time in taking advantage of the opportunity to travel to Britain for my assessment, which was held in Pirbright. I successfully passed the many challenges and tests and commenced my Phase 1 Training on November 5, 2016.
I was now a recruit in the Royal Logistic Core in the British Army. At times, I found the training physically and mentally exhausting. I had never anticipated how difficult army training would be. With no military knowledge or background, I had to adapt to a new lifestyle and freezing weather.
Transitioning from a civilian to a soldier was the hardest thing I've ever done. Everything had to be done with urgency. I had to live with a team of new faces far away from my home. I found everything challenging, but was willing to learn and go the extra mile. I didn't let my downfalls stop me from achieving my goal. At times, I wanted to give up and just leave, but I was determined and kept telling myself if my brothers made it, I can too!
I worked hard on my shortcomings; I was so determined to improve and be better. I practised my foot drills and weapon handling drills in the little spare time that was given. As for getting my kit squared away, I would practise in my accommodation block late at nights. With every practice, I was determined to improve by doing better and being better than all my previous attempts. In field exercises, I did extremely well and also helped other recruits.
My improvements and my hard work didn't go unnoticed and I was presented with the award for most improved recruit at my passing out parade.
Today, I am now in my second phase of training. This includes Driving Training and Stores Keeping. I am now even more focused on my career in the Army. On my last Stores course, I was awarded top student. I will always continue to work hard, making myself and my family proud. I've accomplished so much being a soldier in the British Army. This is only the beginning.