Posted on
GECCU opens branch office in Canouan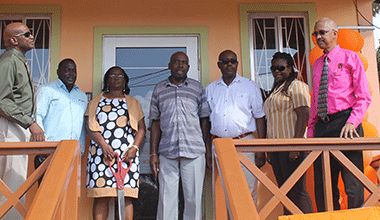 For the past 17 years, residents of Canouan have been offered services by the General Employees Co-operative Credit Union (GECCU) for two days every month. Finally, GECCU has officially opened an office on the island.{{more}}
Speaking at the opening ceremony on Saturday, president of GECCU Kelvin Pompey told residents that they realized that two days per month visits were not adequate enough to service the demands of customers on the island.
"Today, as president of your credit union, I am pleased to announce, Canouan, that…our relationship has been upgraded. No longer a two days per month visiting relationship."
He pointed out that since Canouan is now such a major hub of economic activity, they wanted to offer them the permanent service to make the customers' money work for them.
"An individual who is in the business of – let's say – diving in Canouan, can now, as soon as he sells his catch, come to GECCU and deposit his monies into savings and shares accounts. We all know that cash in hand disappears very fast," Pompey said.
Additionally, he noted that having a permanent base would allow residents of Canouan to more readily access the services offered by GECCU, especially their tank loan programme.
"Of special importance, however, to our Canouan residents, will be our tank loan programme and this programme allows members to borrow for the purchase or construction of water tanks," the credit union president noted.
Pompey also stated that currently an office is being constructed in the village of South Rivers and soon work will begin on an office in Troumaca.
"This indeed is an exciting time for your credit union, to residents, workers and business owners; I welcome you with open arms to GECCU family."
Also speaking at Saturday's launching, director of Grenadines Affairs Edwin Snagg noted that: "What is happening in Canouan now is a clear indication of the growth and development in Canouan."
He stated that the opening of an office in the small Grenadine island shows the 'futuristic' vision that GECCU has and the hope they see in the future of Canouan.
"It means that our people have begun to own…their own financial situations," Snagg said.
He pointed out that no one would have ever thought that a financial institution would ever open a branch in the Grenadine isle.
"Who would have thought, I mean, if I told my father many years ago, that a financial institution…the credit union, is going to come to Canouan, he might have said 'boy what you talking', because he would not have been able to see that."
Snagg recalled when public servants had to be given 'hard area allowance' when they were sent to certain areas such as Canouan.
"When other institutions are pulling out from certain areas, it is because they don't possess the same interest…the credit union has. Because the credit union has come from the bowels of the people, there is no financial institution that meets the needs of any people like the credit union. They have different interests," Snagg added.
Representative for the Southern Grenadines Terrance Ollivierre, while delivering his remarks, noted that GECCU's presence on the island gives residents the added advantage to make the credit union work for them.
Moreover, Ollivierre noted that the credit union also offered children the opportunity to now save money.
"It is very important that we do that, because…sometimes… here you have the credit union here, you can then encourage your child to save by making sure that they are a member of the credit union.
"By using the services of GECCU you will be able to teach them, on a daily basis…how to save," Ollivierre added.
The constituency representative stated that residents now have the opportunity to visit the office every day and see what services are being offered and get financial advice.
"You can benefit from what this credit union is offering you. As we have heard, money in hand quick to go, if you are here and the credit union is here on a permanent basis, you will be able to take advantage to save your money regularly and to make sure that you put it to what you want to put it."
Minister of National Mobilization, Social Development, the Family, Gender and Youth Affairs Frederick Stephenson encouraged the staff the go out in the community and encourage persons to join the credit union.
"I want to encourage the staff here in Canouan to go out and ensure that all persons who are of working age and go into the school and speak to the children about the school thrift programme and to encourage all our people to save, because it is important," Stephenson said.
Additionally, he stated that a recent report from the Caribbean Confederation of Credit Unions shows that credit unions throughout the region have contributed more than any bank or financial institution for consumer loans.
Stevenson noted that it was becoming costly for residents to travel to the mainland to make deposits in their account, and with a permanent branch, residents would be able to save that money they would have used for travelling.
"These beautiful islands which we call the Grenadines are in a constant state of development and developing and institutions like the credit unions must make themselves available to the people of these islands."
He stated that school's thrift programme of which GECCU services half, has a savings of over one million dollars.
"It therefore means that as the children save from Grade K up to Grade Six, that the Government wouldn't have to spend too much money for them when they write their CPEA and they go the secondary school. The monies that they would have saved over the period would assist in buying their books and their uniforms."
The minster noted that the Vincentian programme is so exceptional that they were visited by persons from Argentina to learn about the programme.