Posted on
Coconut Shrimp with Pina Colada Sauce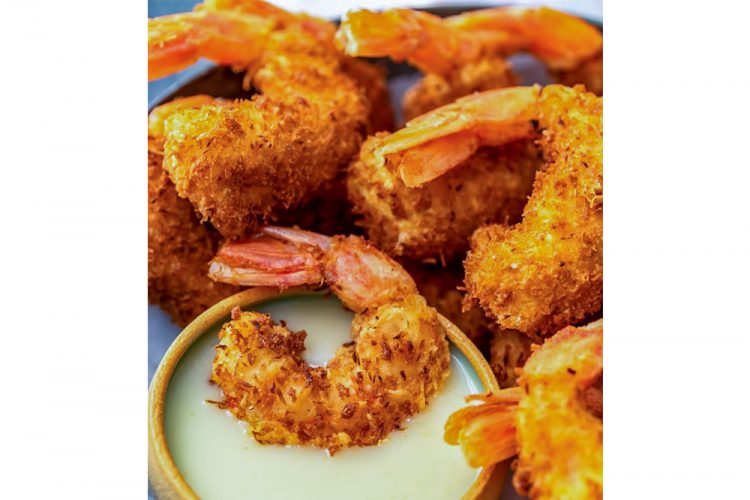 What you will need:
Panko Breadcrumbs
Sweatened Shredded Coconut
Flour
Paprika
Cayenne Pepper
Salt & Pepper
Eggs
Water
Method:
Heat oil in a deep-sided pot/pan. Oil should heat to 340°F before frying. Lay out the shrimp, pat dry, and season.
Set up three shallow bowls for the dredging process: one with flour, paprika, cayenne pepper, white pepper, and salt; a second with eggs and water whisked together; and a third with breadcrumbs and shredded coconut.
Dip the shrimp in the flour mixture, then the eggs, then the breadcrumb/coconut mixture. Dip it a second time in the eggs, and again in the breadcrumbs. Then place it in the hot oil to fry.
Let the shrimp fry about 1 minute on each side (2-2 1/2 minutes total). Remove them carefully and place them on a paper towel lined plate while you finish the others.
Coconut Shrimp Dipping Sauce Ingredients:
You will need:
Pina Colada Mix
Crushed Pineapple
Sweetened Coconut Flakes
Water
Red Pepper Flakes
Cornstarch
Salt
Lime Juice
Lime Zest
Method:
Basically, all you have to do is mix the ingredients together, let the sauce simmer to thicken up, and then serve it with the shrimp. It could be done in advance as well.