Posted on
Lawyers for petitioners rest case on Day 4 of Hearing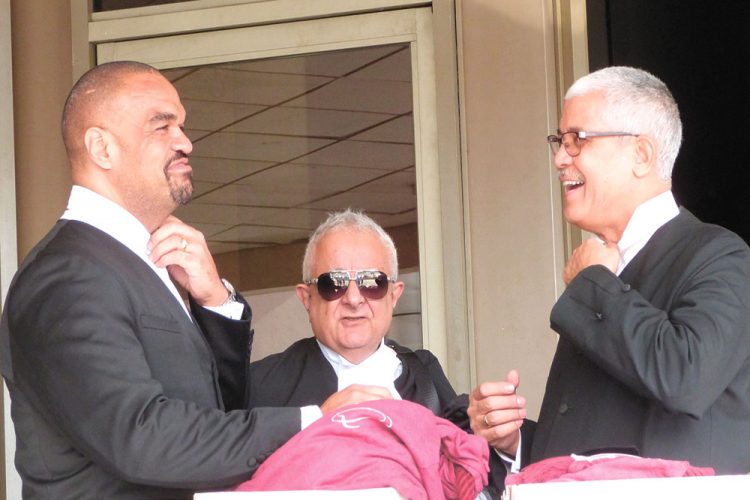 The trial looking into two petitions, filed by New Democratic Party(NDP) candidates Benjamin Exeter and Lauron Baptiste, which allege serious irregularities in the 2015 general elections, began this week.
Exeter and Baptiste, who were candidates for Central Leeward and North Windward respectively, are asking that the court hold as void, election results of December 9, 2015, which announced the Unity Labour Party(ULP) as the winner.
They make a number of claims in their case, and as lead counsel for the Petitioners, Stanley 'Stalky' John and Keith Scotland, called 11 witnesses to the stand this week, lead counsel for the respondent Douglas Mendes cross examined them.
The case is being heard at the National Insurance Services conference room, which is being used as a court room for the purpose of hearing the petitions.
The consistency or the inconsistency of numbers on election documents and numbers on the NDP's record, the validity of the ballots, the question of pre-stamped ballots, and breach of secrecy are some of the issues that Mendes dissected in his cross examinations.
With the petitioners' witnesses for Central Leeward and North Windward all having taken the stand, the court moved on to calling the respondents' witnesses on Thursday afternoon.
Justice Stanley John, a Trinidadian judge, presides over the matter. The respondents are successful candidates for the ULP Louis Straker and Montgomery Daniel, returning officers Vil Davis and Winston Gaymes, presiding officers Veronica John and Kathleen Jeffers, the Supervisor of Elections, Sylvia Findlay-Scrubb, and the Attorney General.
A number of supporters of the New Democratic Party(NDP), and the Opposition Leader himself, Dr Godwin Friday, have been listening to the proceedings, in a case that has been pending since 2017.
In March 2017, the Court of Appeal reversed a ruling of Justice Brian Cottle which struck out the petitions in 2016. This ruling restarted the process.