Posted on
Disagreement between friends leaves one man dead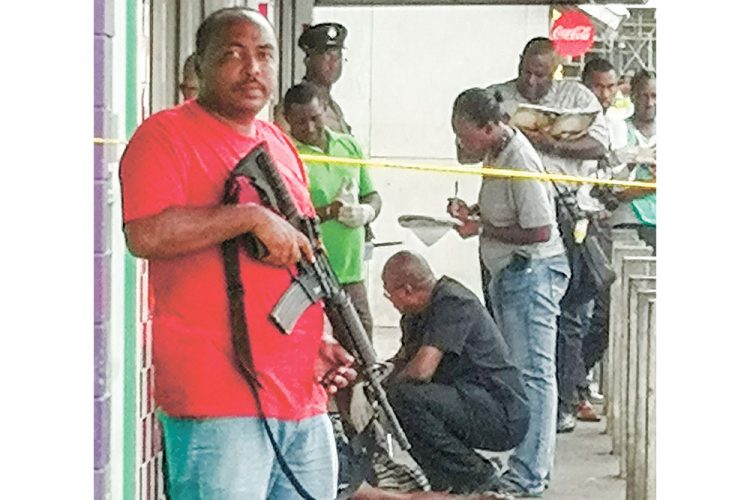 Receiving the news that a relative you had seen only a few minutes before is dead, is surreal.
"I was at a meeting and my sister message me and said, 'Daddy just message and say they kill Ricky'…and I was like 'no they can't do that, when I just pass him Arnos Vale'," Akamwa Andrews told SEARCHLIGHT on Thursday.
Andrews was commenting on the violent killing of her brother Ricardo Geraldo John also known as Ricky or Caveman. John was wounded on Wednesday at around 3 p.m. in Arnos Vale in the vicinity of Options Supermarket.
A video recording, making the rounds on social media shows two men, leaning on a wall, holding on to each other, after which one walks off with a cutlass in his hand while the other one, identified as John, falls to the ground.
Andrews told SEARCHLIGHT that her brother returned from Canada a few years ago and began hanging out in the area where he eventually met his death.
She said that minutes before he was killed, she was in a minivan heading into Kingstown and it stopped in the vicinity of the Options Supermarket when a young lady she knew shouted to John, "Look you sister".
Andrews said John looked into the minivan and shouted "Sis, sis, sis," but the van drove off and she did not get to speak with him.
When Andrews later got the call that he had been killed, she did not believe, because she had just seen her brother alive and well.
"I came back (to the scene) and the young lady whom I know, said the van I was in must not have reached to the roundabout before the thing happen," Andrews said.
She noted that while she and John were not very close, she is distraught over what happened. Andrews also noted that a person who she knows as "Cox" was detained in relation to the killing and she knows him very well as he is her neighbour in Georgetown.
Reports are that John was involved in an argument with another man when it turned violent. Andrews believes that the killing could have been avoided.
She said a young lady told her that the two men were arguing, and she spoke to them before going into a nearby shop and it appeared as if they had stopped.
"She said she came back, but she couldn't go between them to stop them fighting…she said if she had somebody else… it could have been avoided but nobody went to part them.
"They were friends not like if they were enemies. To me he did not go to do it, but it just happen," Andrews said.
Police are investigating.