Posted on
Another section of the old Jack's Wall collapses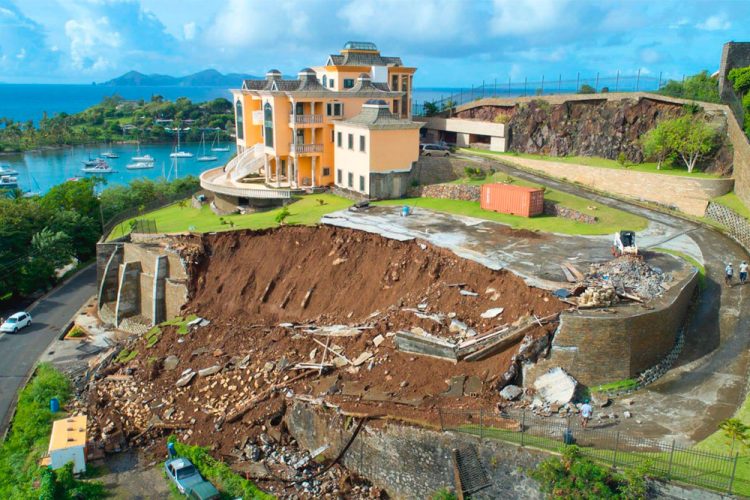 The section of Jack's Wall that collapsed on Sunday night was part of the driveway wall and not part of the wall that was reconstructed under the supervision of the ministry of transport and works and the Faculty of Engineering of the University of the West Indies.
So says transport and works minister, Julian Francis, who addressed the most recent collapse of a portion of the wall, yesterday on the Shake Up programme on We FM. "…the Jack's Wall is not compromised.
There is no evidence of it being affected by what happened on the driveway wall, which are two distinct and separate designs. The one going up by the driveway was of the old design.
This one is the new one that we have worked on along with the University of the West Indies and other…engineers from the region who had actually come in and supervised while construction was ongoing," Francis said.
Following the collapse of the wall last Sunday evening, the portion of the Windward Highway in the vicinity of the wall was closed.
The minister said the road was closed to allow for a thorough inspection on the wall.
He said there was no evidence of failure on the section of the wall that was reconstructed under the supervision of the ministry almost 10 years ago.
And as a result, the road was reopened sometime yesterday afternoon, easing the traffic congestion that occurred in the morning from the diversion of traffic.
"The two walls are not connected at all. There is no tying of that wall that has failed with the wall that was built. There is no pull from one wall to the other," Francis said. He said the landslide will not be removed until a new design is done for that portion of the wall.
Furthermore, the minister said that while some failure has been detected on the remaining portion of the collapsed wall along the driveway, it does not pose any significant threat to the highway.
On September 19, 2008, another section of the retaining wall, which surrounds the property belonging to Alex Jack, collapsed, crushing Patsy Bowman, 67, who was driving past the wall in her vehicle.
The wall, construction of which began in 1994, collapsed after 90 millimetres of rain fell continuously over three days in September 2008.
An inquest held into Bowman's death concluded that she came to her death as a result of manslaughter caused by an accident, due to negligence on the part of the engineers and contractors.
But although the engineers and contractors were found to be negligent, no charges were laid.