Posted on
Over EC$1.2 million saved in schools' thrift programme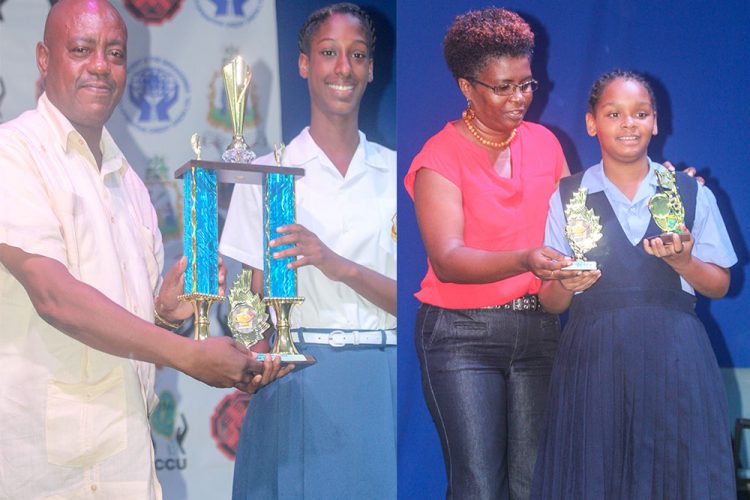 The National Schools' Cooperative Thrift Programme has amassed over EC$1.2 million, jointly saved by over 12,000 of the nation's youths.
And, last Tuesday at the Peace Memorial Hall in Richmond Hill, the Ministry of National Mobilisation's Cooperative and Community Development Division recognized the top 162 savers in the thrift programme.
The top savers came from schools throughout the length and breadth of the country with Lyndica Cruickshank of the Clare Valley Government School earning the award for the top primary school saver and Amaia Edwards of the St Joseph's Convent Kingstown (SJCK) recognized as the top secondary school saver. Edwards was also awarded a prize for being the top national saver.
Chief Inspector of co-operatives Patterson Homer, speaking at the event, explained that the 2018 schools' co-operative thrift awards ceremony is held every year to recognize the top savers.
He said that 39 years ago, local co-operative leaders introduced the schools co-operative thrift programme and as at June 2018, 53 primary schools, 22 secondary schools and six pre-schools are part of it.
"The programme is well managed and driven by 100 committed teacher guides," said Homer who added that it is sponsored by the General Employees Cooperative Credit Union (GECCU), the Kingstown Cooperative Credit Union (KCCU), the Police Cooperative Credit Union (PCCU) and the St Vincent and the Grenadines Teachers Cooperative Credit Union (SVGTCCU).
The chief inspector added that the programme is strongly promoted and supervised by staff at the Cooperative and Community Development Division of the Ministry of National Mobilization.
Homer said the awards represent financially prudent and smart students being awarded for their frugal actions and the fact that they did not cave in to the desire of wasteful spending. There are students who have saved EC$8,000, EC$12,000 and even EC$15,000.
During the ceremony, four retired teacher guides were recognized for their contribution to the programme. They were Gwendolyn Clarke-Bullock of the Gomea Methodist School, Carol Edwards of the Spring Village Methodist School, Clydell Forde of the Brighton Methodist School and Sharon Peters of the Fairhall Primary School.
The SVG Cocoa Company also presented awards to the best performers from the various schools while the award for the top school society was given to the Georgetown Government School.
The other top school societies were the Lodge Village Government School, the Layou Government School, the Fancy Government School and the Lauders Primary School.
The event was also attended by the Minister of National Mobilisation, Social Development, Family, Gender Affairs, Persons with Disabilities and Youth Frederick Stephenson who gave the feature address.