Posted on
34-year-old man charged for chopping death of Diamond Village resident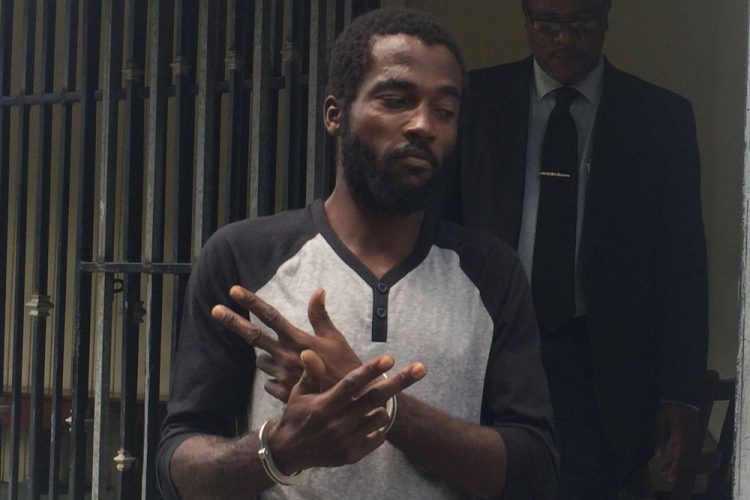 Three days after the life drained out of the body of a Diamonds Village resident, who bled to death from multiple chop wounds, '357' has been charged with his murder.
Colonel '357' Thorpe, 34 years, was taken into custody the day after the body of James Adolphus Gould was discovered by a married couple, who, on the morning of August 6, woke up and opened their kitchen door to find him lying before them.
A postmortem was performed on Gould's body, and determined that the cause of his death was exsanguination, due to multiple chop wounds.
Gould's death marks the 18th violent death in St Vincent and the Grenadines for 2018.
Meanwhile, Thorpe appeared to be unfazed, raising his hands in gesture for the camera, although, as a murder accused, he is to be remanded in custody while the matter goes through the courts.
The defendant was charged that he did, between 9:30 p.m. on August 5, and 6:30 a.m. on August 6, with malice aforethought, cause the death of James Gould of Vermont/Diamonds Village, to wit "by chopping him about his body with a cutlass."
Thorpe, who is being represented by attorney Ronald Marks, was not required to plea, as the charge is laid indictably.
Senior Prosecutor Adolphus Delplesche informed that the officer in charge of the case, Sergeant Malcolm Alexander, had indicated that he needed approximately three months, and that there would be 15 witnesses.
Chief Magistrate Rechanne Browne-Matthias remanded Thorpe into custody until November 7, when it is expected that the preliminary inquiry will begin.