Posted on
Campden Park man charged in shooting death of shopkeeper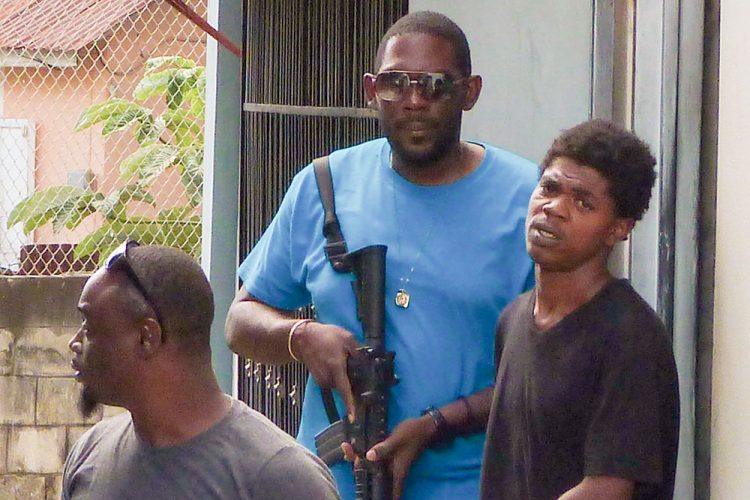 A 20-YEAR-OLD MAN of Campden Park on Wednesday became the first person to be charged for the shooting death of a Redemption Sharpes shopkeeper which occurred last week.
Jahbary Jackson, also known as Micheal Richards, as he was addressed when he was charged at the Kingstown Magistrate's Court, was one of four persons picked up last week who were of interest to the police in the murder of Sabitree Lyttle.
Lyttle was shot multiple times last Wednesday at the shop and home that she shared with her husband and children. Warrants were issued by the police following this, for the arrest of several individuals.
This Wednesday, one of the suspects, Jackson, who had been in police custody, was brought to court after being released from the hospital. It is reported that he had ingested an unknown substance, which resulted in his having to be admitted there on Monday.
Therefore, a week after Lyttle's killing, Jackson, 20 of Campden Park, was charged that he did on November 14, in Redemption Sharpes, with malice aforethought cause the death of Sabitree Lyttle, 56 years of Redemption Sharpes, by an unlawful act.
As yet, it appears that the defendant is unrepresented, but he was not required to plea to the charge, which is set for preliminary inquiry.
Prosecutor Corlene Samuel asked that the matter be adjourned and transferred to the Serious Offences Court.
Therefore, Senior Magistrate Rickie Burnett transferred the matter, and it was adjourned to next Monday, November 26.
Jackson smiled as he went back to the prisoner's bay, placed his hands together temporarily, and continued to look at the magistrate.
Lionel 'Gubler' George, 25 years of Rockies, and Jerroy 'Jay-Jay' Phillips, 22 years of Redemption Sharpes, were also named as persons of interest in the murder, but bail was denied to them on separate charges this Monday, and they remain in custody.