Posted on
Abusive husband jailed while magistrate reflects on sentence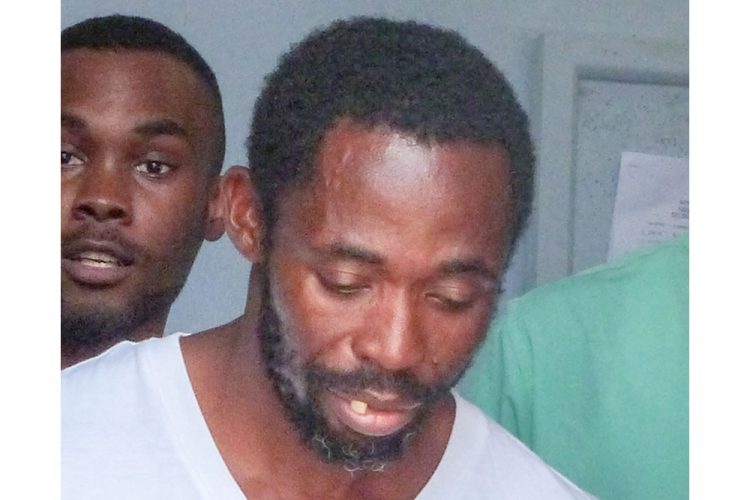 A man who assaulted his wife of 15 years will spend the next two weeks in prison while the magistrate reflects on what would be an appropriate sentence.
From his calm demeanour when he was called into the Kingstown Magistrate's Court this Monday, it may be that David Bascombe had not thought prison a likely option for his charges.
However, when all was said and done, Bascombe left the court in handcuffs, for a two-week stay in prison, until Senior Magistrate Rickie Burnett decides what his sentence would be.
The defendant, 40 years old of Vermont, admitted that, on April 13, in circumstances likely to cause a breach of peace, he did make use of threats, to wit "I go kill yo. I go kill you here." Added to this were two other charges, which he also pleaded his guilt to, of assaulting Keziah Bascombe, his wife, and causing her actual bodily harm.
Although the police gave a short sense of the occurences of that day, informing that there had been numerous reports of physical and verbal abuse in the past, both wife and husband each gave their version of events also.
According to both parties, it was the normal event of clothes washing that sparked the fire of rage. The wife apparently became annoyed at one of their daughters after discovering that the clothes had not been taken off the line after she left the house and came back.
The defendant, who complained about not being given a chance to explain his side only as prison was first mentioned, told the story from the standpoint that he was defending their daughter. "Me see e leggo a hard thump in the girl back," he said, speaking about his wife, and so he said he asked her, "Why you thump the gyel… the gyel nah do nuttin?" He said that his wife then "come up in me face war fight me." In the end, he said he made a motion that caused her to be pushed to the ground.
Keziah Bascombe said that this was not how it happened. She said that she told her daughter after she got back, "every time me tell you fuh do something…me tell you to sweep up the yard, wash up the plate…you nah do nuttin." She said she hit her daughter on her back, and continued dealing with the clothes. Some time later the defendant came outside 'cussing' her, and "he ah tell me nah come and hit (the daughter)." There was some arguing about this for a time, and she said her husband gave her a 'big shove' which saw her going into the flowers. She hit her head and remained on the ground for a little while, she said.
"Me see he over me…I go kill ya. I go kill ya," she recalled, before saying that her daughter was saying "Daddy no." After she went to the police station to make a report, she said she went by her sister, after realizing that her husband was still cursing. At her sister's home, she said, "they say me faint wey and me can't ketch meself."
Her injury form read that she had had loss of consciousness, followed by dizziness and headaches, and that she hit her head and chest. The wife said that she had to get 12 'drips' at the hospital.
"Have you been to Her Majesty's Prison before?" Burnett asked the defendant, who replied that he had not.
"Alright, well I'm going to send you there for a while, for a period of reflection for the next two weeks and when you come back before me I'm going to make up my mind as to what I'm going to do with you," the magistrate said. Bascombe will be sentenced on August 27.