Posted on
Hundreds brave cold weather to pay respects to Haywood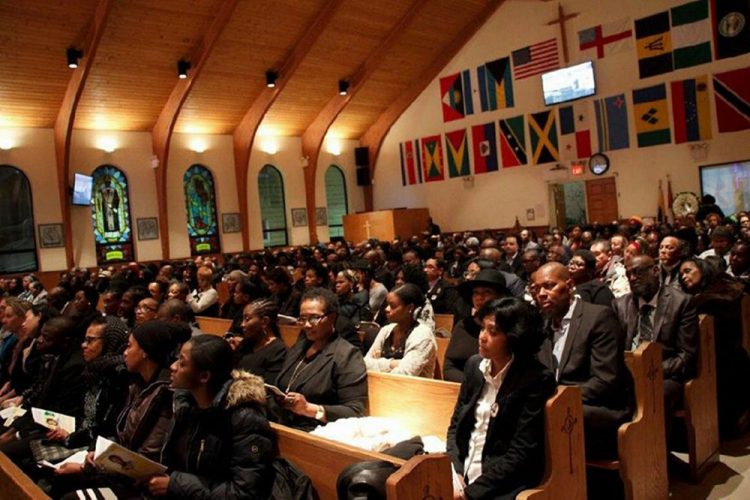 by Tricia Reddock
Hundreds braved the snowy night in celebration of the life of Maxwell 'Iwaki' Haywood on Friday, December 15 in Brooklyn, NY, USA. The popular social activist, husband, father and comrade passed away on November 29, after succumbing to an illness he battled for several months.
The crowd of over 400 filled St Gabriel's Episcopal Church to pay their respects.
"This is a very big celebration of my brother's life, his great effort to preserve humanity, instead of a funeral. The great attendance and love, in spite of the weather, is a blessing to our family," said his brother, Afari Haywood, after leading a powerful musical tribute, with Rock of Ages, a reggae band they founded together.
Members of the St Vincent Diaspora Committee of NY, where Haywood functioned as chair, wore matching dashikis as a visual tribute to his passion for African culture and commitment to Pan Africanism.
The church was filled with the sounds of steel pan music, drumming, poetry, singing and eloquently delivered testimonials to Haywood's character, life and body of work.
Colleagues from the United Nations spoke of his compassion and leadership skills, pledging to continue Haywood's legacy.
Long-time friend, Speaker of the House of Assembly Jomo Sanga Thomas, who travelled from St Vincent and the Grenadines (SVG) for the event, continued the theme.
"If anyone were to ask me who would I like the next generation of Vincentian youth to be like? Who would I like the next generation of Vincentian leaders to be like? Who would I like the next generation of Vincentian patriots to be like? I would say, without a single moment of hesitation, I would like all of us to be like Maxwell Haywood."
The eulogy was delivered by his wife, Sherrill-Ann Haywood, who spoke of their personal love story and partnership fighting for social justice through various organizations and initiatives.
"Maxwell was definitely a mover and shaker in the community and was integral to many developments, including the formation of the Council of St Vincent and the Grenadines Organizations, ( COSAGO), Club St Vincent's Cultural Exhibition, the SVG Homecoming Conference, and most recently the SVG Diaspora Committee of New York Inc.
"He was deeply concerned with institution building and also oversaw the creation of a sport association, an association for cultural artistes, the Heritage Awards and the development of a website that could be a hub for Vincentian diaspora issues."
During the event, speakers painted a picture of a mentor, teacher and friend, who quietly and humbly affected change on many levels, influencing many to commit to a life of service in their respective communities.
Atiba Williams, a member of SVG Diaspora Committee of NY, expressed his thoughts.
"I have mixed feelings, I am both joyous and emotional. He was a strong, passionate leader. It was a pleasure and honour working with him. I will miss him greatly. He had a great passion for development."
Following the service was a lively and festive repast, where family and friends of the deceased continued the celebration and reaffirmed their commitment to continuing Haywood's legacy.
According to his wife, "Maxwell will now be counted among our powerful ancestors and I just hope as a community, we can come together to build on his legacy and forge a stronger, more unified nation and diaspora."
Howie Prince, Consul General of SVG in New York, echoed the question;
"What is a tangible memorial for Max? I am committed to establishing some kind of memorial, something with his name on it, as a legacy of his work and commitment to the people of St Vincent."